Office 2019 Professional Plus
Microsoft has released the Office 2019 Professional Plus version with many new improvements compared to Office 2016 and older versions. The improved features and functions in this new version bring many great experiences for users, improving work productivity. You only need to pay a one-time fee to own a lifetime license of Office suite with full functions of Word, Excel, Powerpoint, OneNote, Outlook, Access, and Publisher.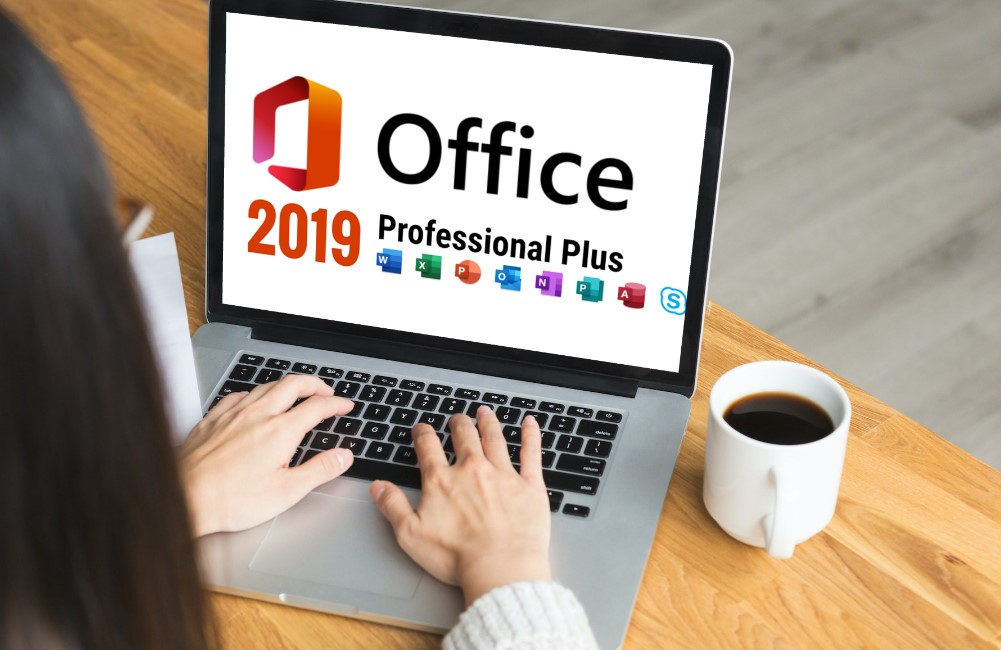 Information about Office 2019 Professional Plus Key bind with your MS account
This is a brand new genuine key, used to activate Office 2019 Professional Plus.

The Office 2019 Professional Plus license is linked to your Microsoft account.

Digital Key (no CD/no DVD). You can download the software using the Microsoft download links provided.

The product key can be used for both 32 and 64-bit versions.

Valid for all available languages and regions: English, German, French, Spanish, Korean, Italian, Polish, Dutch, Hebrew, Portuguese, Arabic, etc.

You only need to buy one time for the account (1 PC) and you can transfer the license to another device.

Classic 2019 versions of Word, Excel, PowerPoint, Outlook, Publisher, OneNote, Skype for Business, and Access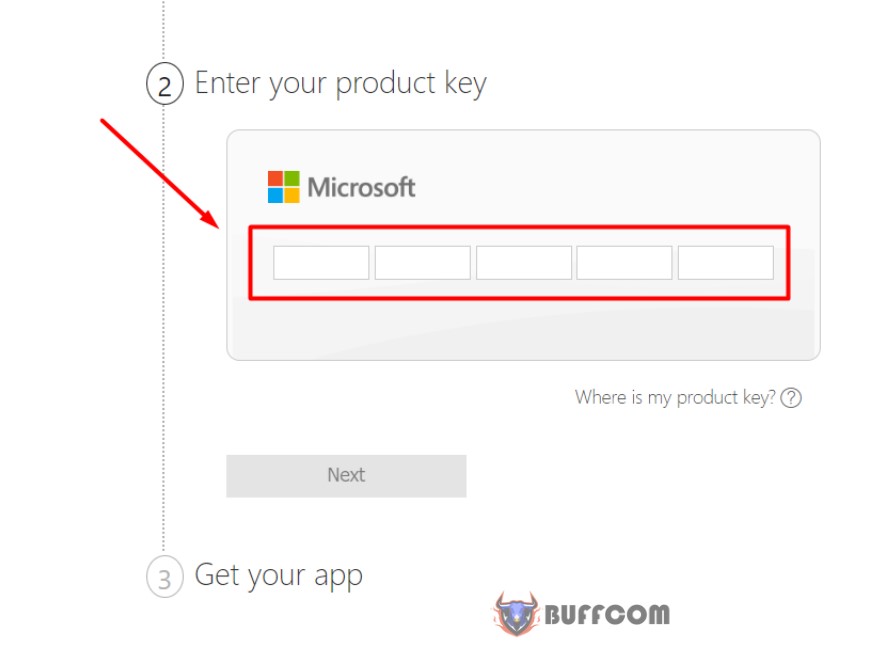 Advantages of Office 2019
The interface and features of Office 2019 are improved over the 2016 version.

Specifically, Microsoft Word has added a focus mode (Focus Mode) on the Macbook, which helps limit the appearance of other applications during work.

The dark theme (Dark Theme) has been set up for both Windows and MacBook

Powerpoint office application on Office 2019 has the video in 4K resolution, and comes with super eye-catching editing effects

Excel 2019 and Word 2019 have added some new charts along with 2D maps to help users easily illustrate data and charts in reports.

Voice control feature supported in Word 2019

Cloud features upgrade over Office 2016. Users get more online storage and cloud-connected features.
Word – Capable of developing any kind of word processing job, Word can comfortably compose letters, rearrange large articles, or write quick newsletters. Despite the many features and tools, the application still manages to access easily and intuitively thanks to that Ribbon interface. Even after 30 years, this is still the word processor to beat.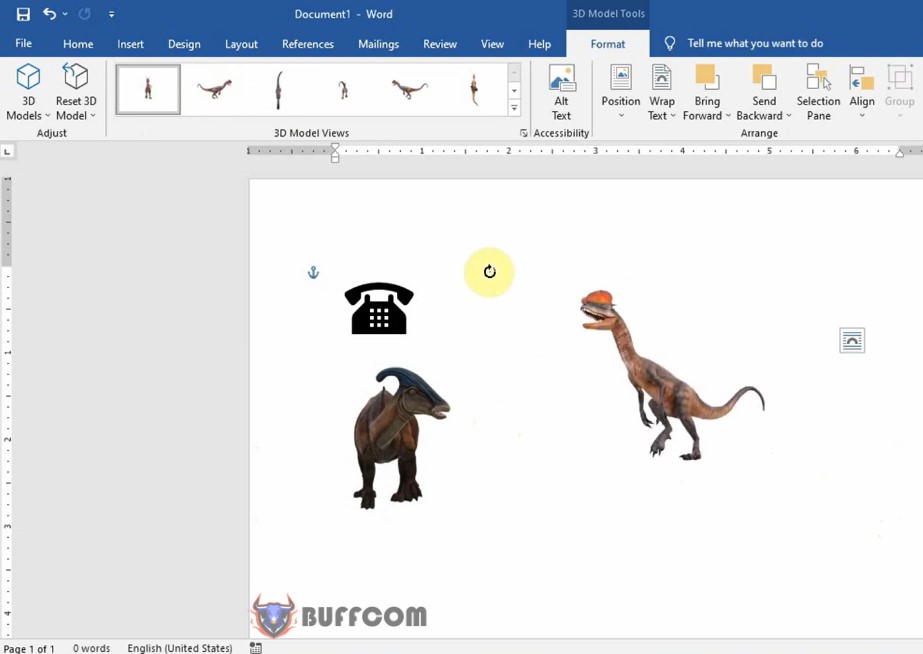 Excel – Packed with functions, no other spreadsheet program comes close to Excel in terms of advanced capabilities. New features have been thin on the ground in recent years, but that's only because it's got everything you need – from crunching numbers on an annual budget to organizing tea quotas.
PowerPoint – The Most Powerful Presentation Tool gets some new tricks in Office 2019, including support for advanced slides with a Bluetooth pen, a new zoom interface for jumping between slides, and transitioning shapes cool. It may not be as lean as some of its newer rivals (like Google Slides) but it's hard to beat in terms of overall capabilities.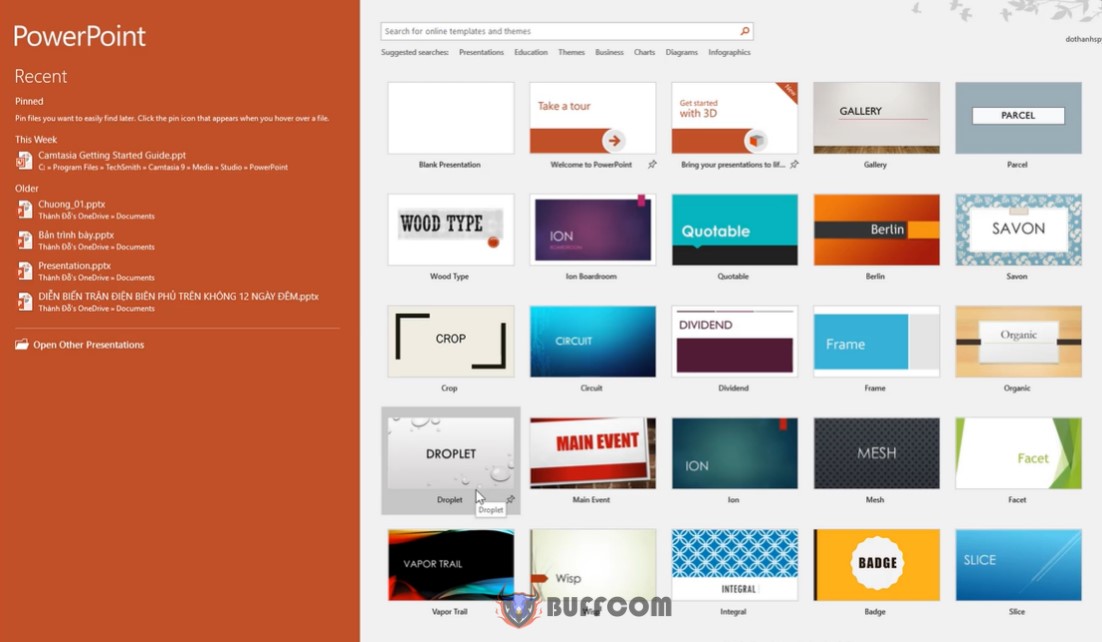 Outlook – The email, calendar, contacts, and tasks client to manage it all, Outlook continues to impress, although Excel hasn't been blessed with many upgrades in recent years. However, it is guaranteed to do a good job of managing your email across multiple accounts and now features a new centralized inbox for your most important messages only.
Access – Microsoft's venerable database application is still available to you when you buy an Office 2019, should you ever need it, and the app is as solid and reliable as ever. New in this release are several improved chart types, support for some new data types, and accessibility upgrades, but nothing major.
Steps to activate and install Office 2019 Professional Plus Key bind with your MS account
1. Go to setup.office.com
2. Sign in with your Microsoft account.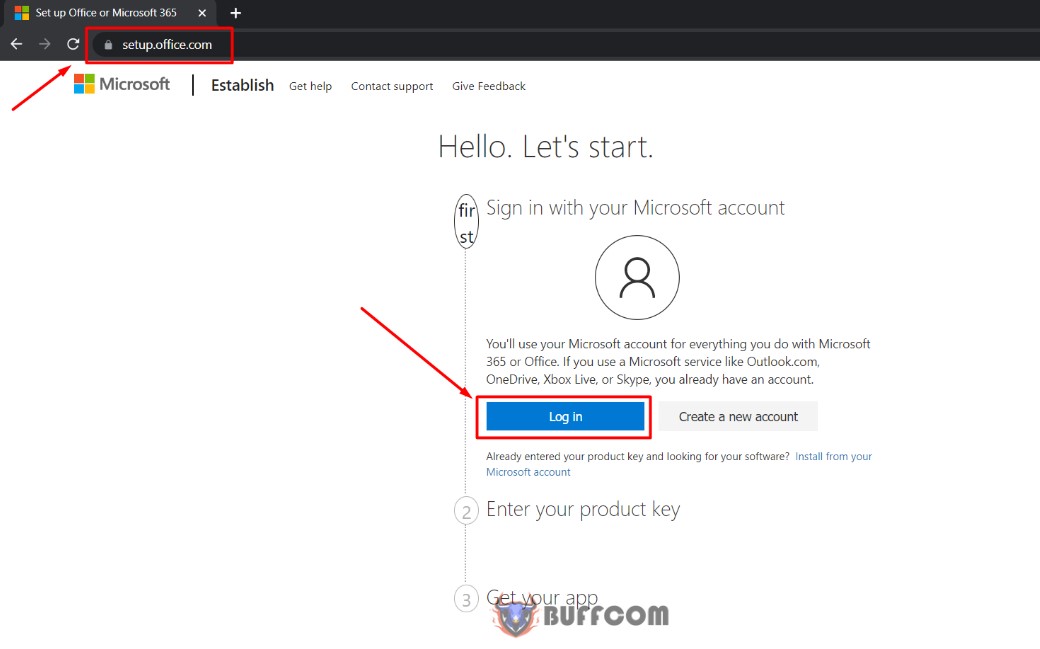 3. Enter your product key.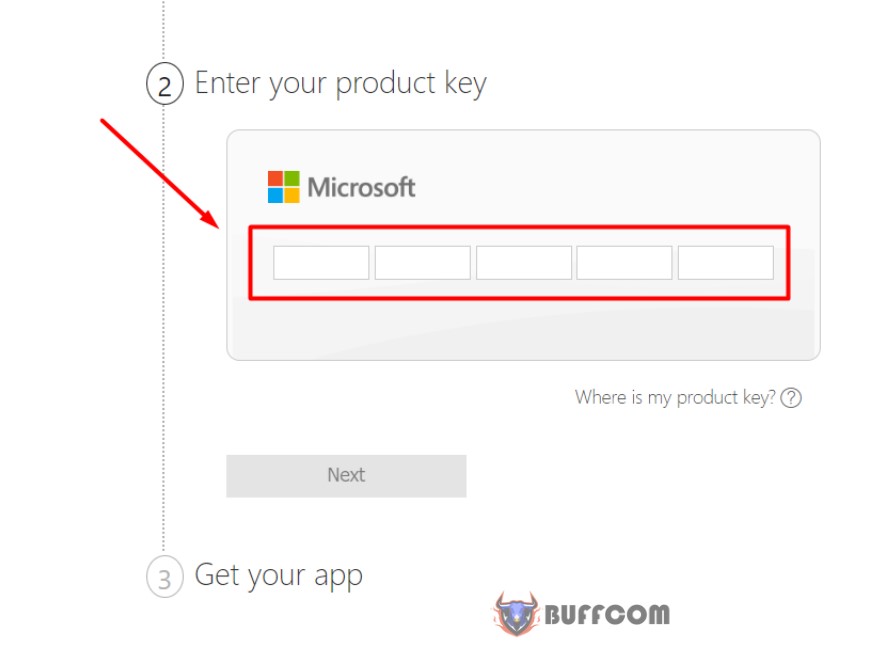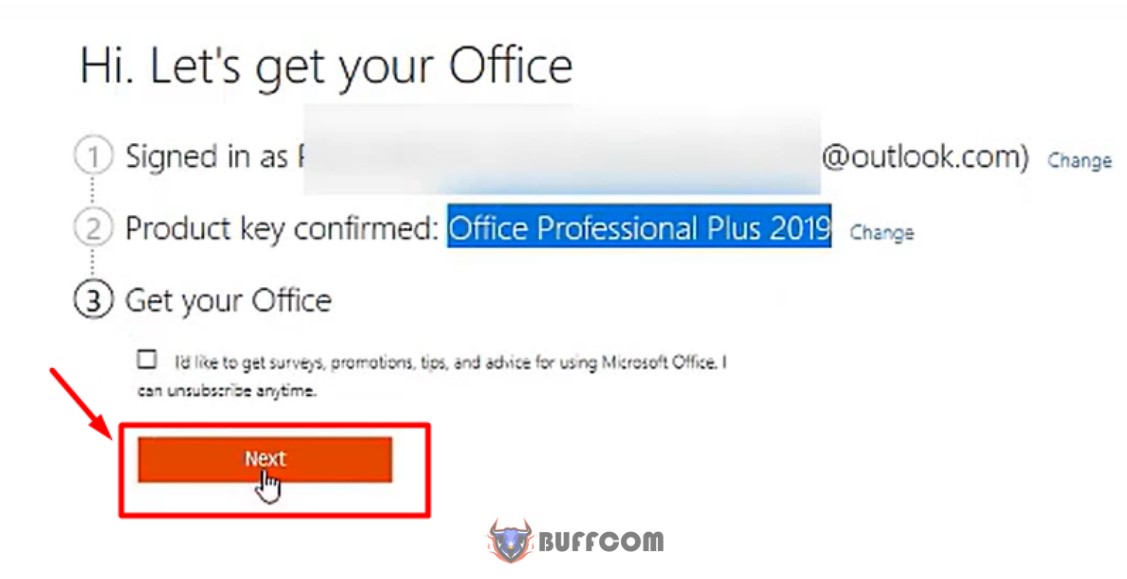 4. Download and install Office.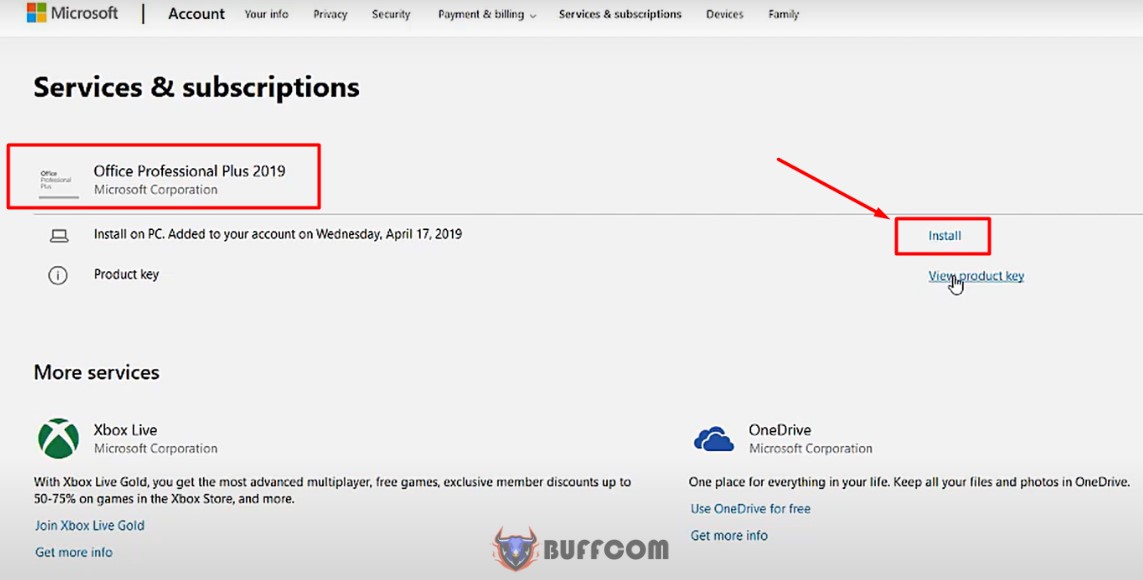 5. Once installed, just sign in with your Microsoft account, and it will automatically activate your Office.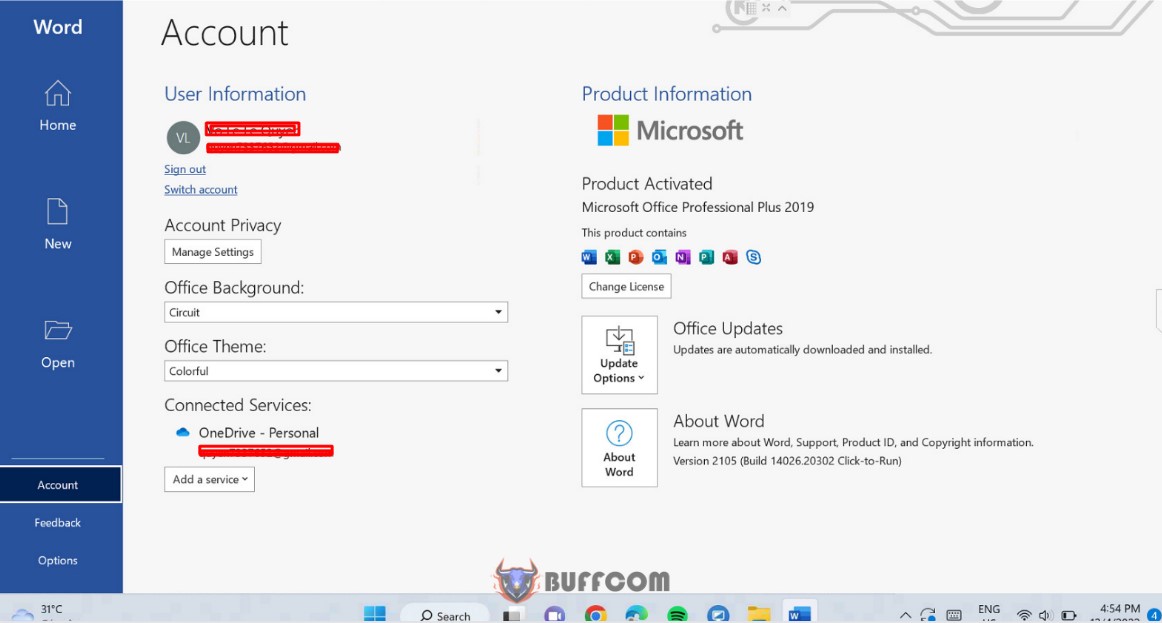 Instructions to buy Office 2019 Professional Plus Key bind with your MS account at Buffcom.Net
Step 1: Please select the number of products to buy, then select ADD TO CART
Step 2: Check the information and select PROCEED TO CHECKOUT
Step 3: Please fill in the information in the Billing details. Then, select PROCEED TO PAYPAL and proceed with the payment (we accept PayPal and Credit cards).
Since the product will be emailed to your order, please make sure that the email you provide is completely correct. Please check your email/spam 30 minutes to 6 hours after placing your order.