Microsoft Office Professional Plus 2013
Microsoft has launched Microsoft Office Professional Plus 2013 to give users a better and more convenient Microsoft Office experience. Since the release of this version, users all over the world have been eagerly looking forward to using it. And up to now, Microsoft has released versions of Office 2019, and Office 2021, but this version of Office 2013 is still widely accepted and loyal to it.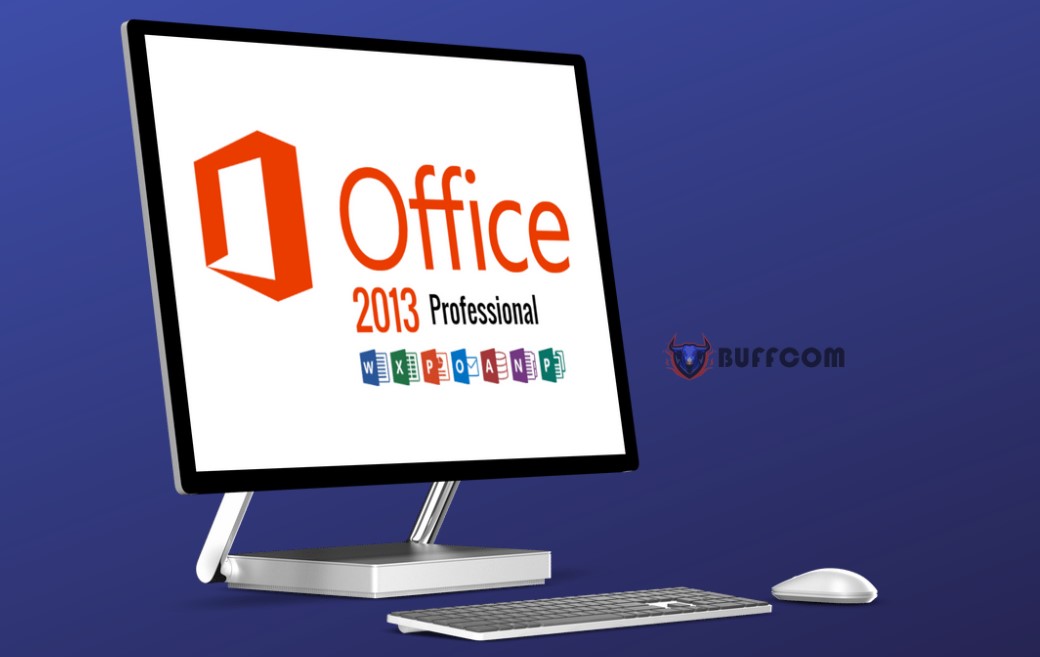 Microsoft Office Professional Plus 2013 Key
This is a brand new genuine cd key for Microsoft Office Professional Plus 2013.

You receive a valid, unused product key to activate Office 2013 Professional Plus.

Buy once for 1 PC.

No disc included (no CD/no DVD). You can download the software using the Microsoft download links provided.

The product key can be used for both 32 and 64-bit versions.

Always auto-updating.

Valid for all available languages and regions: English, German, French, Spanish, Korean, Italian, Polish, Dutch, Hebrew, Portuguese, Arabic, etc.

Classic 2013 versions of Word, Excel, PowerPoint, Outlook, Publisher, and Access.
What is new in Microsoft Office 2013 Professional?
Fresh interface
The desktop of applications in Office Professional Plus 2013 is minimalist, making the contours make the application look more elegant and light. With the new look and feel of Office Professional Plus 2013, you will no longer feel like you're working in an application window because the interface is almost completely flat.
In addition to the default interface of the program, Microsoft Office also allows you to change the Theme and Background of the working window. To edit this setting, you just need to go to File > Account and customize it to your liking.
Improvements to Microsoft Word
One of the coolest and most visible improvements is that the Word application supports the Read Mode feature. With this feature, the editing elements on the application's Ribbon will be hidden and you can view the application as if you are reading a book with the table of contents navigation bar on the left side of the screen.
In addition, Microsoft Word also automatically saves the bookmark of the last page you were working on before closing the document, which helps better support you when you reopen and continue working with the text you are editing.
If you're working with an Internet-connected computer, you can insert and view videos directly in Microsoft Word 2013 without leaving the application. The feature of taking screenshots and inserting text from the tools available on Word 2013 is also a significant improvement, many people were confused when they needed to insert an image from the application on the screen. If needed, you can also search for images online and insert them directly from the Word 2013 work window without having to save the image to your computer and then insert it into the text.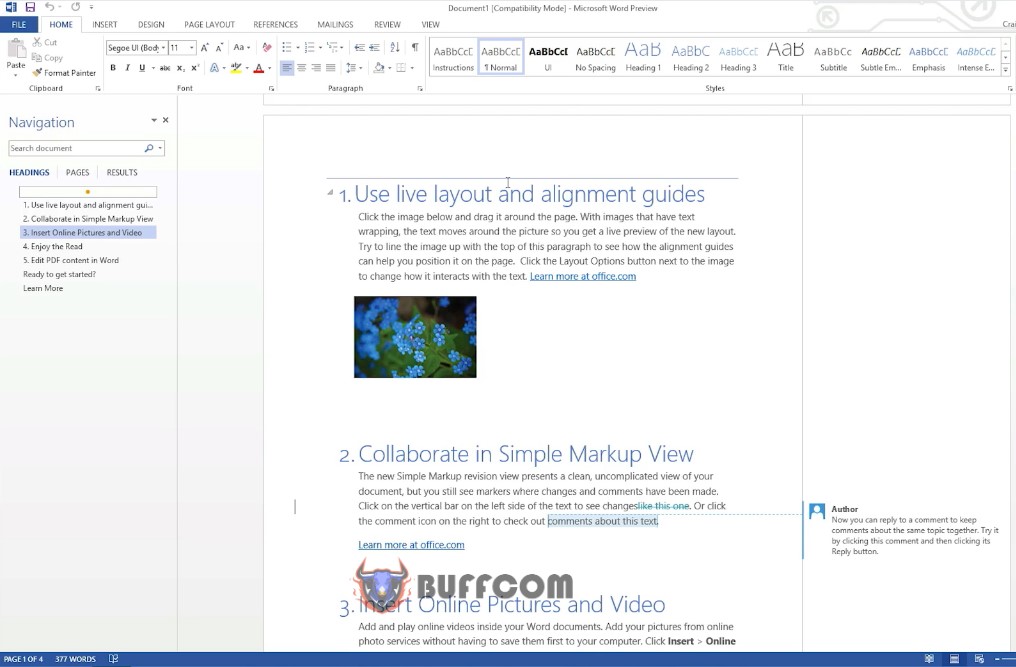 Microsoft Word 2013 allows you to open and edit PDF files directly in the application (it converts PDF to Word, edits it, and saves it to PDF). This will save you from having to install other PDF reader applications such as Foxit Reader or Adobe Reader.
Improvements to Microsoft Excel
Microsoft Excel 2013 has some exciting and useful new features that make data entry, analysis, and presentation much easier.
The first new feature is Flash Fill – this feature will automatically separate the elements in a data cell according to an existing pattern. For example, if you have a data table with an employee's full name, but want to separate the first and last name data into two different columns, Flash Fill will help you do this. As long as you enter the first name, and how to split the data, let Flash Fill do the rest.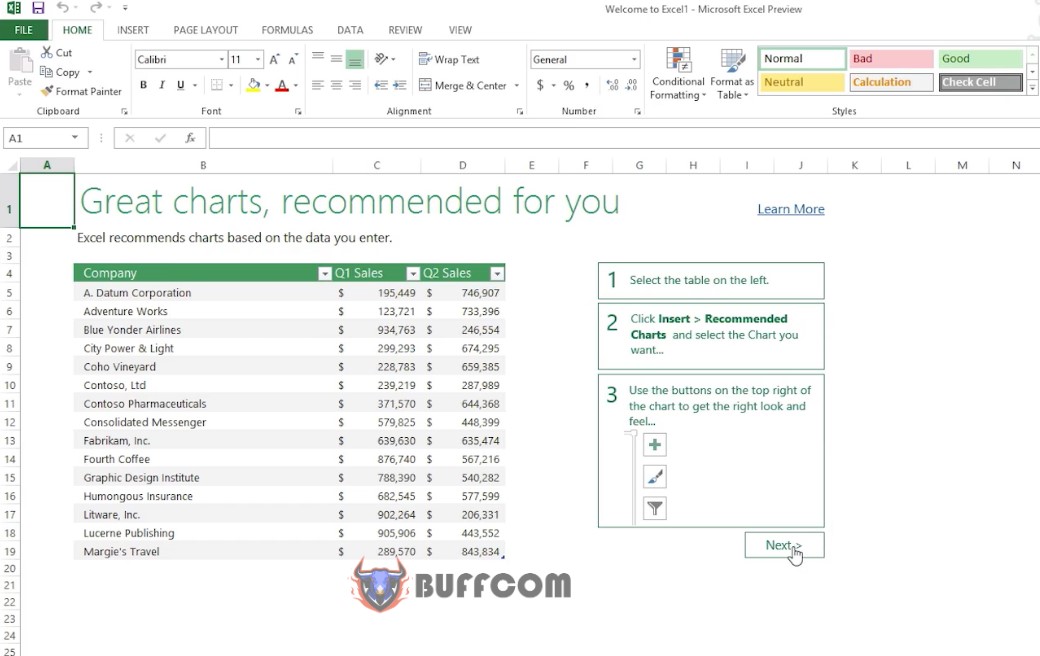 The second feature is Quick Analysis, which helps you quickly analyze data as soon as you black out them. With the options in Quick Analysis, formatting and summarizing your data becomes much simpler.
Improvements to Microsoft PowerPoint
Some of the improved features in Microsoft PowerPoint are similar to those for Word 2013, such as viewing the presentation in reading mode, the ability to add a screenshot without leaving the data, inserting a searched image from the internet right in PowerPoint, and a few more features waiting for you to discover.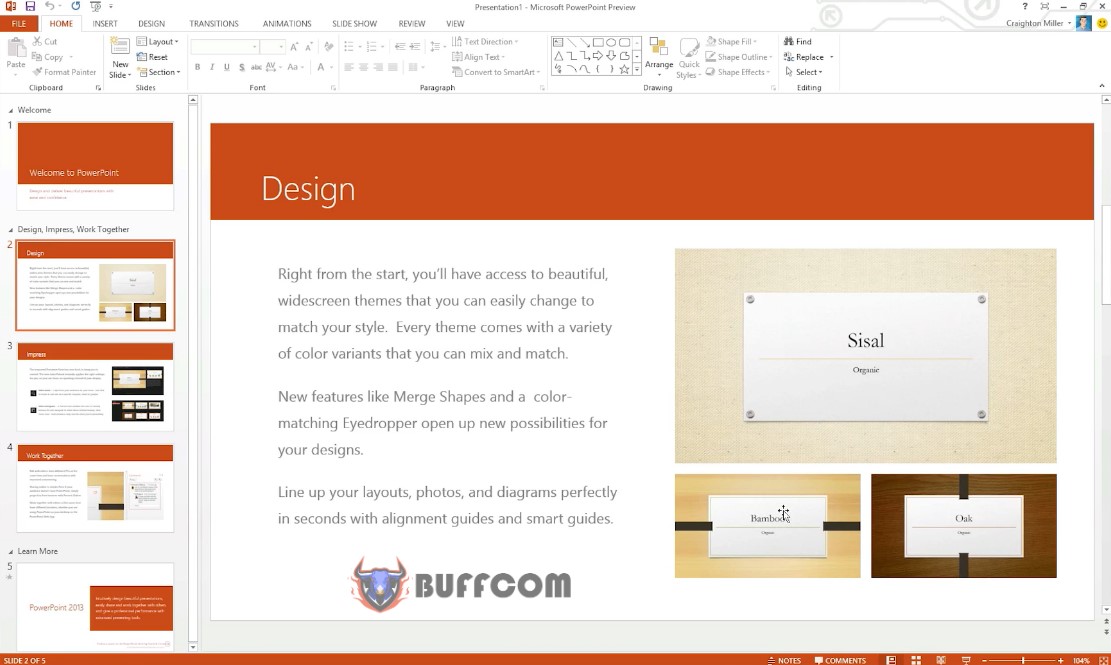 PowerPoint 2013 makes it easier to adjust the design objects in your presentation with options that appear in the right sidebar when you select an object.
With this new version, Microsoft also enhances support for playing multiple video formats on PowerPoint, and you can add background music to your entire presentation.
Microsoft PowerPoint 2013 allows you to present on two screens: one for the audience, and one for yourself. In your presentation screen (Presenter View), you can easily see the notes of the current slide as well as preview what the next slide screen will be.
Improvements to
Outlook
One of the most impressive new features in this Microsoft Office 2013 suite is that Outlook is very open and easy to see with the left panel minimized to save space for a better email experience.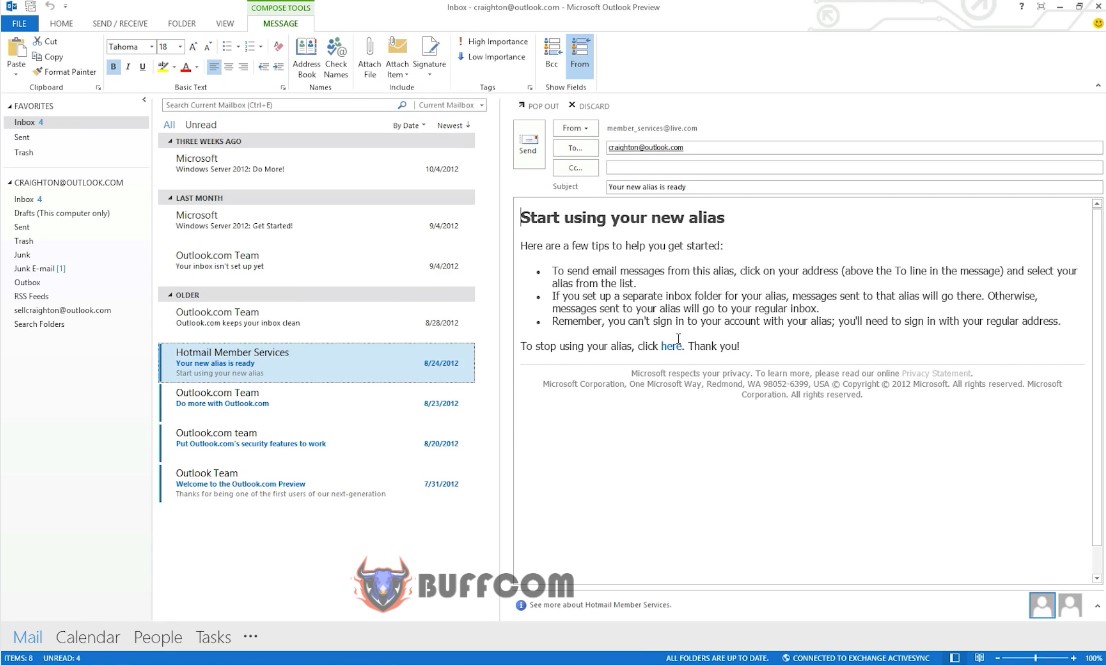 The entire mailbox list, folder management, calendar, contacts, and tasks sections will only have icon icons and will expand when you hover over the icon.
Microsoft OneNote, Publisher, and some other bundled apps
All other bundled applications of the Microsoft Office Professional Plus 2013 suite "benefit" from the same design and functionality as the core products in the Office suite: such as a flat, beautiful, and personable interface. ; strong sharing capabilities; the ability to take screenshots from the built-in tool in the application; can embed Excel or Visio spreadsheets and the data will automatically change as soon as the original spreadsheet changes… and many more features.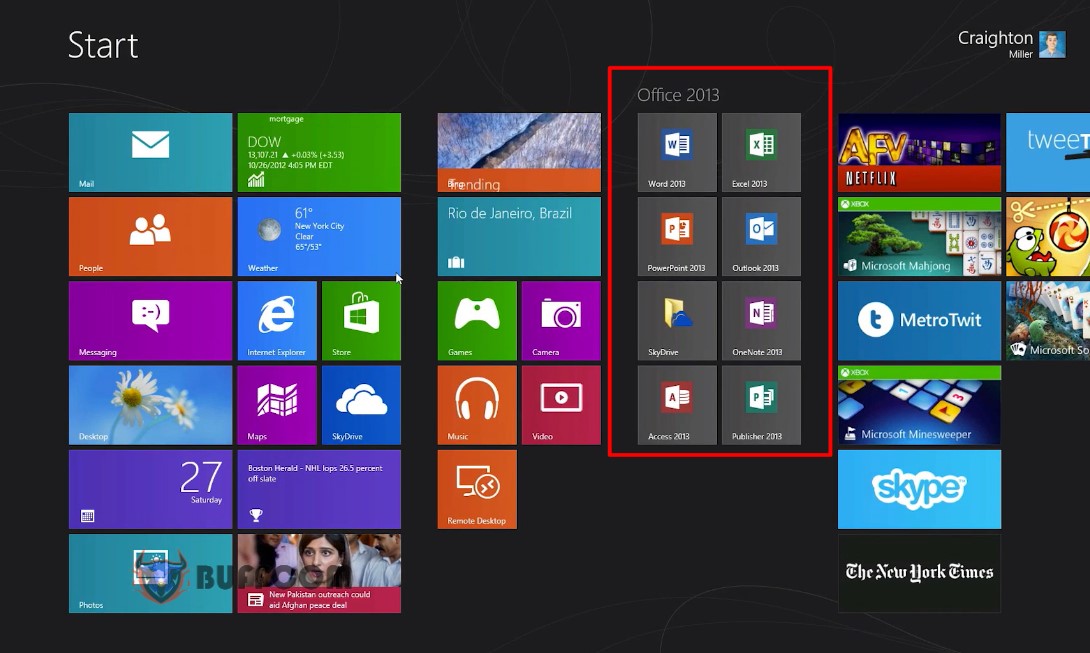 Instructions to activate Microsoft Office 2013 Professional Plus
Step 1: Open Word 2013.
Step 2: Select File.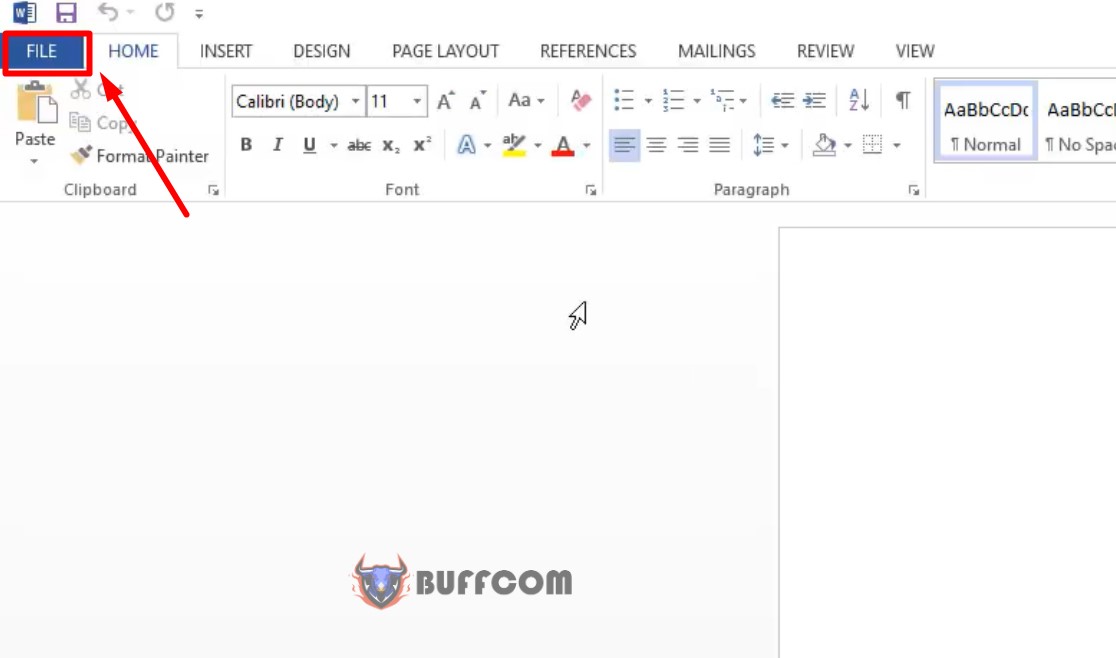 Step 3: Select Account, then select Change Product Key.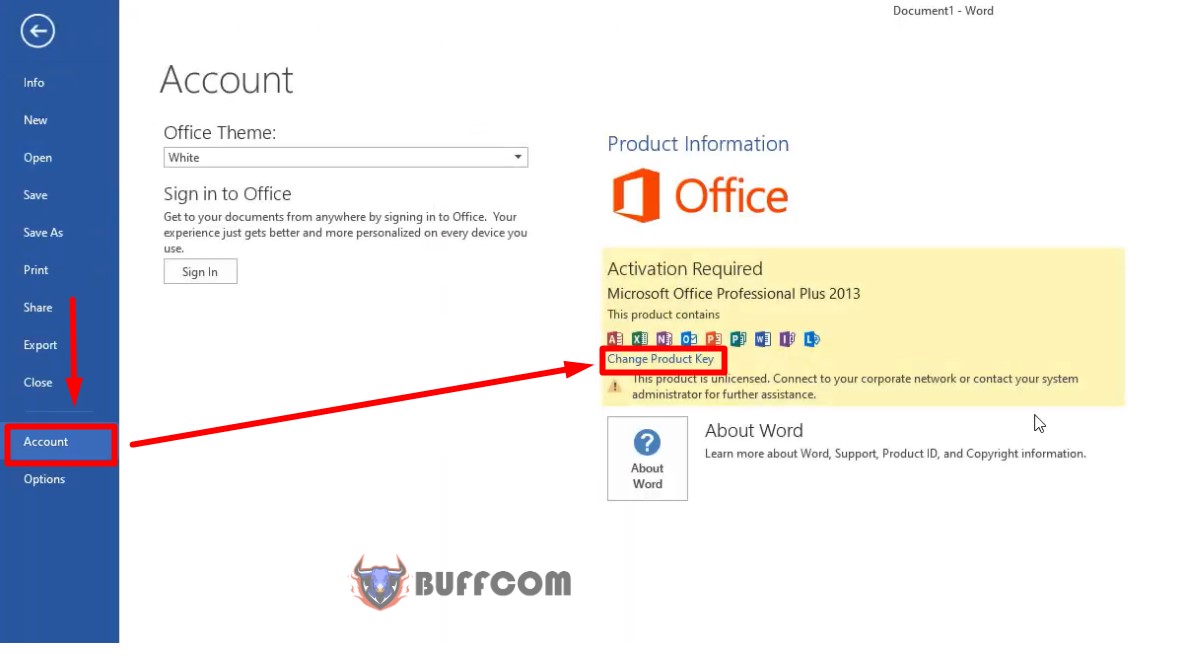 Step 4: Enter the key and select Install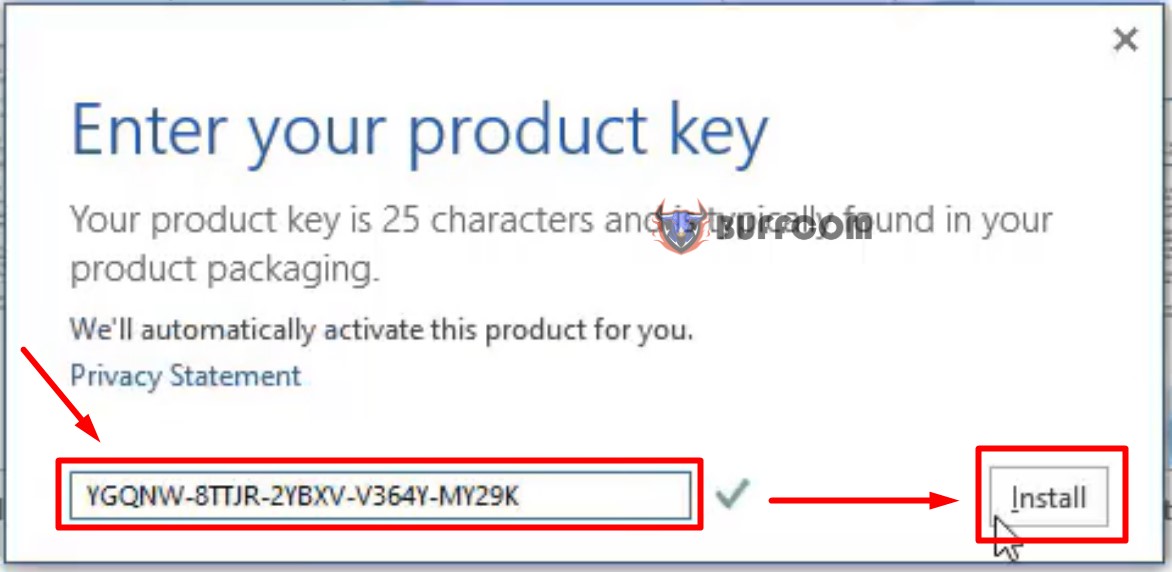 Microsoft Office 2013 Professional Plus has been activated.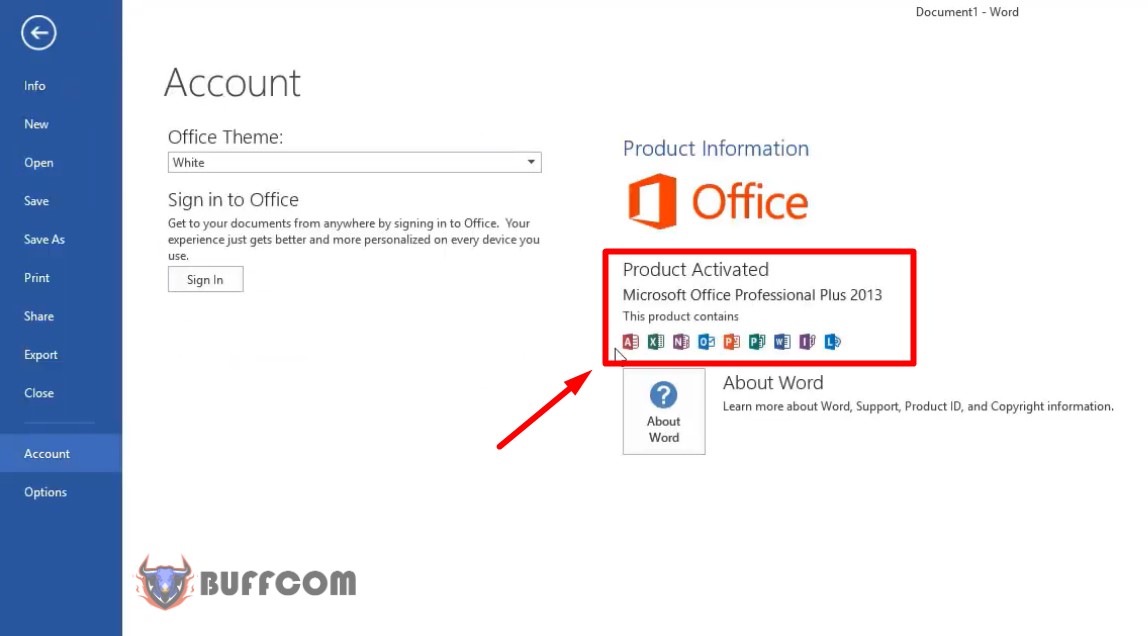 System Requirements:
Computer and processor: 1 gigahertz (GHz) or faster processor with SSE2 setup instructions.
Memory (RAM): 1 gigabyte (GB) RAM (32-bit), 2 gigabytes (GB) RAM (64-bit).
Hard Drive: 3.0 gigabytes (GB).
Monitor: Graphics hardware acceleration requires a DirectX10 graphics card and 1024 x 576 resolution.
Operating System: Windows 7, Windows 8, Windows Server 2008 R2, or Windows Server 2012.
Browser: Microsoft Internet Explorer 8, 9, or 10; Mozilla Firefox 10.x or later; Apple Safari 5; Google Chrome 17.x.
.NET version: 3.5, 4.0 or 4.5
Multi-touch: a touch device is required to use any multi-touch functionality. However, all features and functions are always available using a keyboard, mouse, or another standard input device. Note that the new touch feature is optimized for use with Windows 8.
Additional requirements: some functions may vary, based on system configuration. Some features may require additional or enhanced hardware or server connectivity.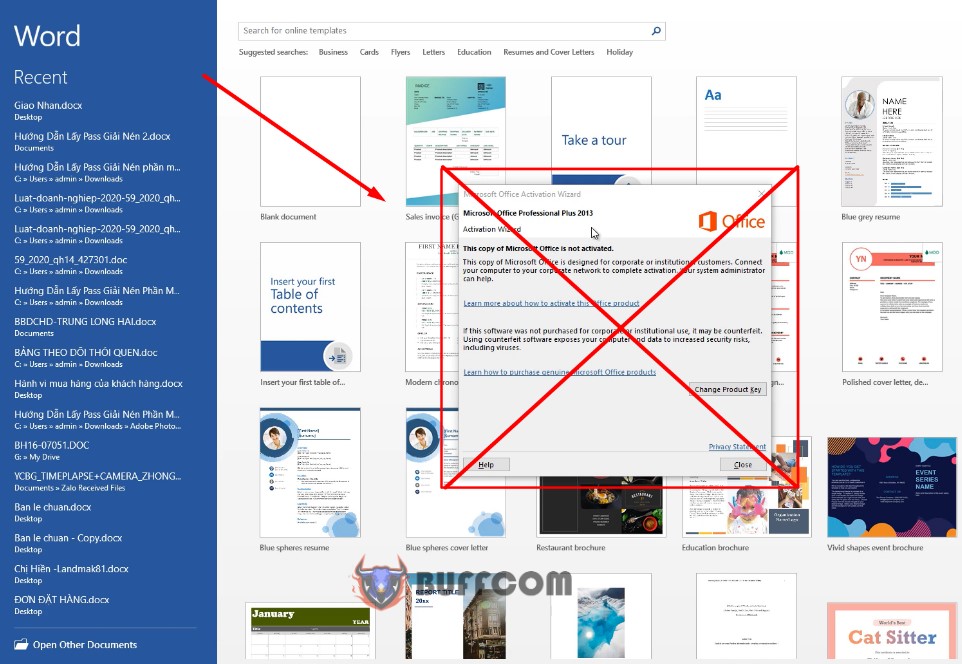 Instructions to buy Microsoft Office Professional Plus 2013 Key at Buffcom.Net
Step 1: Please select the number of products to buy, then select ADD TO CART
Step 2: Check the information and select PROCEED TO CHECKOUT
Step 3: Please fill in the information in the Billing details. Then, select PROCEED TO PAYPAL and proceed with the payment (we accept PayPal and Credit cards).
Since the product will be emailed to your order, please make sure that the email you provide is completely correct. Please check your email/spam 30 minutes to 6 hours after placing your order.