How To Save Excel Files In Different Formats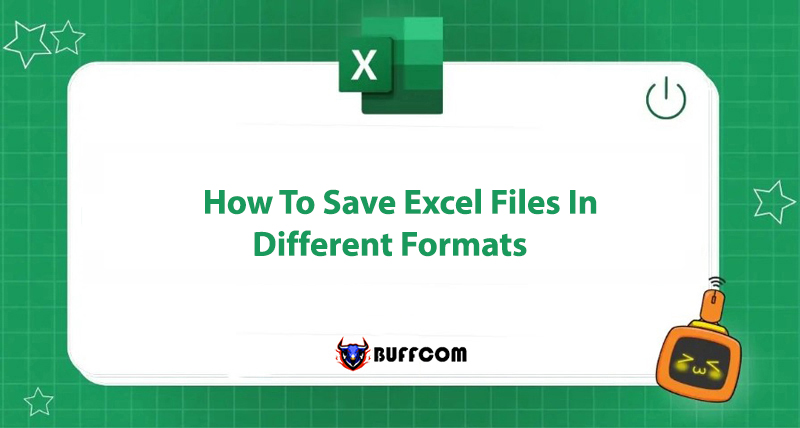 To save an Excel file in various formats, you can utilize the Save As function in Excel. With one Excel file, you can save a spreadsheet in different file extensions corresponding to different software. This way, you can open the file with the appropriate software available on your device without downloading any additional software. To learn more about how to do this, please refer to this article!
Why Do You Need to Save Excel Files in Different Formats?
Saving Excel files in various formats with Save As is an important function. Each device has its own software with a separate version. For example, even though many devices use Microsoft Excel, some use version 2016, while others use version 2007, or even 97-2003. The file extension for each software is different.
If you send a file with the .xlsx extension (Excel 2016) to a device using Excel 2013 with the default .xlts extension, this device will not be able to open the .xlsx file. You need to change the .xlsx extension to .xlts before sending it.
Saving a spreadsheet in various formats will make the process of exchanging information between people more convenient.
Here are some common file extensions supported in Excel 2016: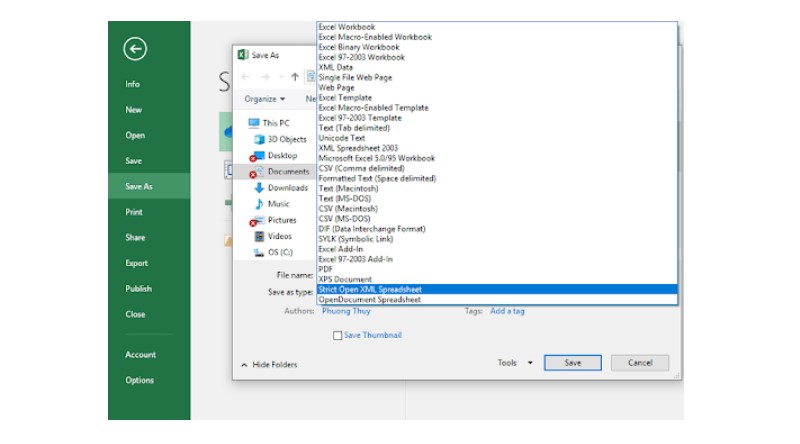 .xlsx: Default format of Microsoft Office Excel 2016.
.xlsm: Format of the file that stores Microsoft Office Excel 2016 macro commands.
.xls: Format of Excel 97-2003 files.
.xltx: Format of the template file, version 2013.
.pdf: Format of the Adobe Acrobat file (PDF – Portable Document Format).
.htm; .html: Format of the file stored in web page format.
.xml: Storage format in XML document form.
In addition, you can save in other file extensions such as: .xltm, .mhtm; .mhtml, .txt, .csv, .ods, .xlam.
So, how can you save a spreadsheet in various formats? Continue reading the section below!
Instructions on How to Save Excel Files in Various Formats
To save a spreadsheet in various formats, follow these steps:
On the Ribbon bar, select the File tab.
Click Save As to choose a new save location.
In the Computer section, click the Browse button to select a file save location on the computer you are using.
If you want to save the file outside the computer, select the location you want to save the file and click the Sign in button to log in with the appropriate account.
Click the Save as type list and select the file format you want to save, then click Save to save the file.


That's how you can save a spreadsheet in a different format according to your needs! The operations are not complicated, right? I hope through this guide, you will become proficient in saving files!
Conclusion
Office computing is truly a very important and useful skill nowadays. If you are still struggling with software that cannot meet your needs, contact Buffcom.net for assistance!