Microsoft Outlook in the BIOS? HP has experimented with that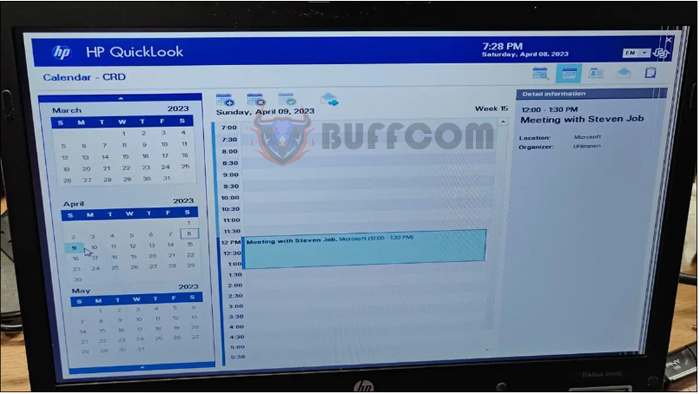 Microsoft Outlook in the BIOS? HP has experimented with that: On April 11, 2023, Corbin Davenport shared an interesting development by HP in his recent blog post. He brought attention to a feature that HP had developed for some of its business laptops in the late 2000s, known as HP QuickLook. This application runs entirely within the BIOS as an EFI program, allowing users to access their calendar, emails, contacts, and other data without waiting for Windows to boot. The concept was intriguing, but the blog post mentioned that the "user interface updates at a potentially 10 frames per second" and was only meaningful during a time when solid-state drives were still relatively expensive for most laptops.
The exact introduction date is unclear, but the earliest available copyright date for related documentation is 2008. HP had previously developed other software features for quick booting into a basic computing environment, such as "QuickWeb," but those features were based on Linux. QuickLook, on the other hand, ran directly within the BIOS and communicated with custom plugins developed for Microsoft Outlook. With a supplementary component that copied Outlook data into a specific folder while the email application was running, QuickLook could access this folder later without requiring the full operating system.
Nevertheless, QuickLook was not just a pre-Windows boot control panel. It had an additional feature called HP Daystarter, available as a BIOS setting, which displayed your work schedule on the screen while Windows was booting. As explained in the blog post, "The theory […] is that the Daystarter is loaded by HP's EFI (I assume before it switches to CSM mode) and traps a certain IO or interrupt. When Windows starts, it will continue updating the VGA frame buffer to move the progress bar. Daystarter traps that event, discards it, and instead writes its own content to the frame buffer. It also uses this opportunity to check the keyboard buffer for F4 or F3, so it can take user input."
HP seems to have continued developing QuickLook for some time. A document on HP's website from 2009 shows QuickLook 3, which allowed users to reply to emails, and any composed messages would be sent once Windows and Outlook finished booting.