Quick fix for Excel file not saving error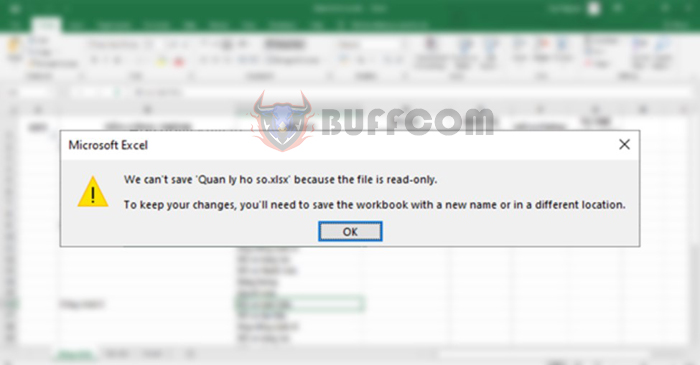 Quick fix for Excel file not saving error: What if you have completed your calculations/spreadsheets, but Excel reports an error that the file cannot be saved? You will have to "scratch your head" to find the cause and fix this common error in Excel. Follow the steps below to quickly fix it.
Tip 1: Save a new file with Save As
To do this, just click OK when this message appears. Then, the Excel screen will switch to Save As mode. Here, select the Browse option and choose the location to save the new file and name the file.
Tip 2: Change file format
If you try Save As but the file still doesn't save, try changing the file format and save it by accessing File => Save As => Browse. Now the Save As dialog box appears, click on the Save as type option and select to save the file as .xlsx or .xls format.
Tip 3: Disable Add-ins
If you still cannot save the file after trying the first two methods, you can try disabling Add-ins to eliminate the possibility of Add-Ins set in the original file causing the file not to save.
Step 1: First, you need to select the File tab on the toolbar. Then select the Options section in the bottom left corner of the screen.
Step 2: Now, the Excel Options window appears. Select the Add-ins tab in the left column. Then select Go in the Manage Excel Add-ins section.
Step 3: Now, the Add-ins dialog box appears. Uncheck all Add-ins and click OK to complete. Then, you can try saving the file again to see if it works.
In addition to the above reasons, Excel files not saving can be due to the following reasons:
Antivirus software causing conflicts.
File name exceeds allowed characters.
Not enough hard drive space…
If you have tried the above methods and they do not work, open a new Excel file and manually copy the data from the original file to the new Excel file and save it again.
Therefore, this article has provided you with a guide on how to fix the Excel file not saving error. Hopefully, this article will be useful to you in your work. Wish you success!