Strategies to Reduce the Size of Excel Files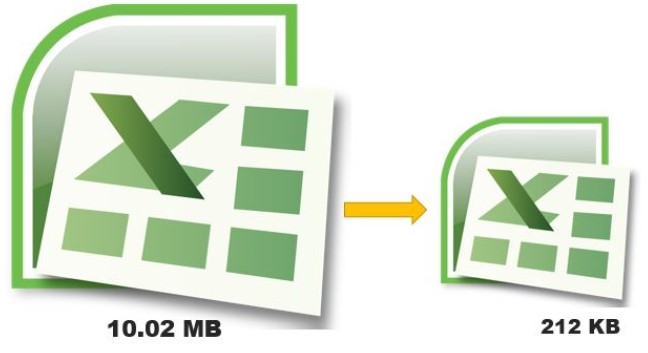 Introduction: 
Strategies to Reduce the Size of Excel Files. Excel files can quickly become large and cumbersome, affecting their loading time and performance. Understanding the factors contributing to file size can help optimize and reduce the size of Excel files. In this article, we will explore seven effective strategies to reduce the file size of Excel files.
Remove Unused Data:
Often, temporary data is imported into an Excel file but not removed afterward. Identify any unnecessary data ranges and delete them. Excel may also consider ranges that were written to and deleted as part of the used range, increasing file size. By removing unused data, you can significantly reduce the file size.
Remove Non-Essential Formulas/Calculations:
Complex formulas and excessive calculations can contribute to a larger file size. Identify formulas that are no longer required or are only used for one-time calculations. Consider replacing these formulas with their calculated values or utilizing VBA subroutines for complex calculations. Additionally, disabling automatic calculations or using manual calculation mode can reduce the burden on the CPU and decrease file size.
Delete Unused Hidden Sheets:
Hidden sheets that are no longer needed can accumulate over time and increase the file size. Identify and delete these unused hidden sheets to reduce the overall file size.
Remove Unused Pivot Tables and Charts:
Pivot tables and charts can significantly increase the size of an Excel file. If a pivot table or chart is only used temporarily or is unnecessary, delete them. This will help reduce the file size and improve performance.
Remove Unnecessary Formatting:
While formatting enhances data readability, excessive formatting can inflate file size. Avoid applying unnecessary formatting to the data sheet itself. Reserve extensive formatting for reports and dashboard sheets, keeping the data sheet as lightweight as possible.
Consider Using a Database:
If you are dealing with a large amount of data that causes Excel to become unresponsive, consider using a database tool instead. Excel is primarily an analytical tool, and for managing substantial and growing data, using tools like Microsoft Access, Microsoft SQL Server, or CSV files can be more efficient. Utilize Excel's External Data Source feature or Power Query to process and analyze data from external sources, further reducing the file size.
Save as Excel Binary File:
If your Excel file does not require interaction with other tools, saving it as an Excel Binary File (.xlsb) can significantly reduce the file size. Excel Binary Files contain all essential features of Excel while taking up less space compared to the standard .xlsx format.
Conclusion: 
Reducing the size of Excel files is essential for improved loading time, performance, and overall efficiency. By implementing the strategies mentioned above, such as removing unused data, formulas, hidden sheets, pivot tables, unnecessary formatting, considering a database, and saving as an Excel Binary File, you can effectively reduce the file size and optimize your Excel experience. Remember to keep a copy of the original file before making any changes and test the reduced file to ensure data integrity.