14 Good Tips and Tricks In Word For You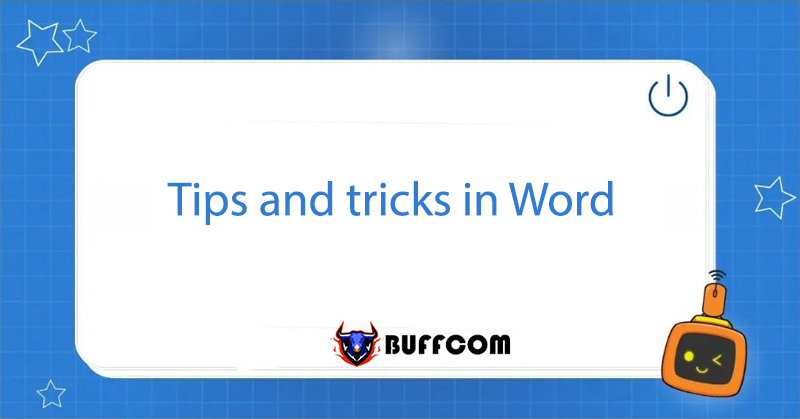 Knowing a few keyboard shortcuts can increase productivity for most Microsoft Word users. Tips and tricks in Word can help with this. However, have you learned all of the Word tricks below? Buffcom.net will share them with you right now.
Some Useful and Unusual Word Tips and Tricks
Note: Some tricks in the list below may be familiar to some of you. However, Buffcom.net will still share them because they are very useful but may be unknown to many people.
Insert Hyperlink
First, copy the URL you need. The URL can be a website link or a link to a folder on your computer. Select the word or phrase you want to add the link to by highlighting it.
Option 1: Press Ctrl + K to display the Insert Hyperlink dialog box.
Option 2: Right-click the selected word or phrase.
Finally, paste the URL into the Address box.
Change Case
Select the text you want to modify. On the Home tab, locate the Aa button, and then select the capitalization option you want. (Alternatively, select your text and press Shift + F3 to toggle case.)
Sentence case: Capitalize the first letter of a sentence
lowercase: make all letters lowercase
UPPERCASE: make all letters uppercase
Capitalize Each Word: capitalize the first letter of each word
tOOGLE cASE: tOGGLE THE cASE OF THE fIRST lETTER aND mAKE tHE rEST uPPERCASE
Change Line Spacing
Click anywhere in a paragraph. Ctrl + 2 doubles the spacing for your text; Ctrl + 1 single-spaces it. Ctrl + 5 gives you a space and a half. You can also use these shortcuts on multiple paragraphs – just select them first.
Automatically Replace Abbreviations with AutoCorrect
Tired of typing a specific word repeatedly in your document? AutoCorrect can help you replace abbreviations with specific phrases. File > Options > Proofing > AutoCorrect Options. Now you can create your own automatic replacement rules for the current document or even all documents in the future.
Move Text within a Document
We all know that Ctrl + X = cut and Ctrl + V = paste. However, there is a way to move text: you can highlight the text you want to move, then press F2 (or Fn + F2 on some laptops). Place the cursor where you want to move the text, and then press Enter.
Smart Lookup
Mark a word or phrase to get more information or search for the definition. Right-click on the word or phrase and select Search Definition.
Convert PDF to Editable Word Document
When you open a PDF in Word, it automatically converts the form to .docx format, allowing you to enter text into the document.
Type Anywhere on a Word Page by Double-Clicking
If you want to type text on a particular page, you don't need to press Enter and space multiple times to position the cursor where you want it. Just double-click anywhere on the blank page to move your cursor there and start typing.
Word Tricks with Shortcuts to Help You Work Faster
Delete a word instead of a character: Ctrl + Backspace
Find and replace: Ctrl + H (If just searching: Ctrl + F)
Go to a specific page: Ctrl + G + page number
Select a single word: Double-click on any word, and you'll see it highlighted.
Select a sentence quickly: Ctrl + left-click anywhere in the sentence, and you'll see the entire text highlighted.
Select a line of text quickly: Place the cursor at the beginning of the line. Press Shift + down arrow, and you'll see the line of text highlighted.
Select a paragraph of text quickly: Place the cursor at the beginning of the paragraph. Press Ctrl + Shift + down arrow, and you'll see the paragraph highlighted.
Conclusion
With the tips and tricks for Word shared by Buffcom.net above, we hope that you can save more time and increase work productivity.
On the other hand, while these tips and shortcuts will help us work faster, it's also important to have a fundamental understanding of Word. To learn and understand more about other knowledge of Word, Excel,… as well as about Office and Windows software products, follow Buffcom.net.