You need to know these 6 things before deciding whether to update to Windows 11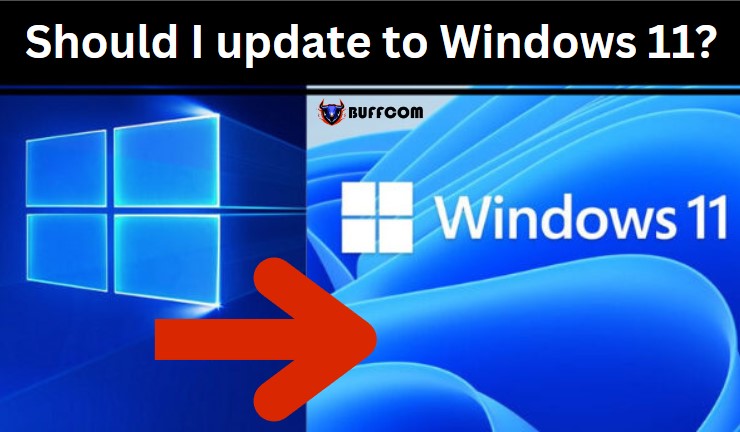 If you are unsure whether to update to Windows 11 or concerned about issues that may arise when upgrading, read this article from Buffcom.net now.
Win 11 was officially released on October 5, 2021. However, you may still be uncertain about whether to update to Win 11 now or wait for the community to provide feedback and suggestions. Let's dive deeper into the analysis of the 6 new features on Win 11 to help you make a more informed decision with Buffcom.net.
We will not jump to the conclusion of whether to update to Win 11 now or not. To answer this question, you should learn more about the new features updated on Win 11 compared to the Win 10 version, as well as the limitations and errors that may occur when upgrading to Windows 11 at this time.
Win 10 has been around for quite some time, and buying a genuine Windows 10 Pro key is now relatively easy. If you want to use it stably, you can use Win 10 for a while before deciding to switch to Win 11.
Things you need to know about Windows 11:
At first glance, the two operating systems may look quite similar. But there are also significant changes that make the next generation of Windows different from Windows 10.
Completely new Start Menu and Taskbar:
The first change to mention is the change in the Start Menu and Taskbar. This can be seen as the most obvious change for Windows 11, and it is very similar to the layout on macOS.
But it is much neater than on Windows 10 and is located in the middle, instead of the bottom left corner as before. However, if you want, you can also move it back to the bottom left corner like on Windows 10.
In addition, the Cortana feature of Windows 10 integrated into the taskbar has also been removed and replaced with a simple search icon (magnifying glass). On Windows 11, the Start menu will display pinned apps, with a large search bar at the top that allows you to quickly find programs and applications.
The taskbar on Win 11 has been fixed only at the bottom, and you cannot move it up, left, or right.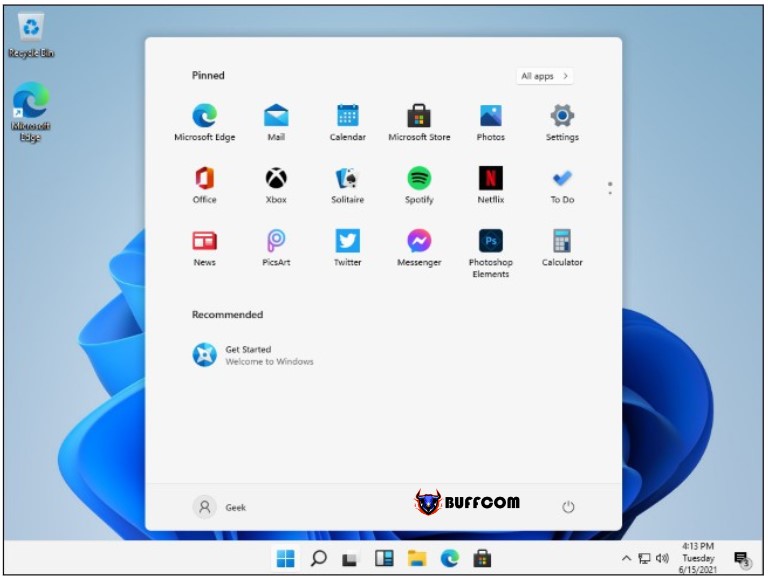 Multitasking support and separate screen
If on Win 10 you have to manually adjust if you want to split working tabs out onto a separate screen, with Win 11, experts have provided you with the Snap Layouts feature.
You have the option to choose from pre-made layouts so you can set up open apps the way you want. Additionally, you can easily customize the position between tabs on layouts for convenient work.
Regarding external screens, Windows 11 remembers how you place windows on the external screen and will save them in that state when you disconnect and reconnect the screen. You won't have to worry if the computer suddenly crashes, forcing you to open and rearrange everything from scratch like in Win 10.
Ability to run Android apps
The app store in Windows 11 and Windows 10 is based on the same design. However, the Windows 11 app store provides support for running Android apps through the Amazon Appstore.
On both Windows 10 and Windows 11, the store still allows you to download Windows apps. That includes UWP apps. However, Win32 apps like Firefox are currently only available for Windows 11.
This is part of Microsoft's larger effort to bring more apps to the Microsoft Store. Even the Epic Games Store is in the Microsoft Store and Microsoft does not cut sales revenue.
In statements, Microsoft said this is to turn the Microsoft Store into a one-stop-shop for all your PC apps.
Compatibility
Windows 11 marks the first significant change in supported CPUs since the release of Windows 8.1. If you want the latest operating system, you'll need an Intel Core processor of the 8th generation or higher or an AMD Ryzen 2000 processor or higher.
Other system requirements include TPM 2.0, which is available on the vast majority of recently sold PCs. As well as UEFI Secure Boot. If you have a supported processor, you don't need to worry about these two requirements. Microsoft has been requiring these features from its manufacturing partners for many years to come.
There is a way to install Windows 11 on unsupported hardware, but we do not recommend it. While Microsoft has not confirmed this, the company has hinted that unsupported users will not receive important security updates.
Performance comparison between Windows 11 and Windows 10
When compared to Windows 10, Windows 11 has the potential to improve the speed of your computer. Overall, the performance benefits in Windows 11 depend heavily on how the new operating system handles system processes that you typically see when opening Task Manager.
Other performance changes in Windows 11 relate to how your computer continues from sleep mode and handles wait times. In comparison to Windows 10, Windows 11 can maintain energy for your RAM even while in sleep mode.
This will help your computer wake up faster by up to 25% from sleep mode. According to Microsoft, with the sleeping tab feature, you can save 32% on memory and 37% on CPU usage.
In Windows 11, Microsoft has expanded the use of compression technologies. For unimportant apps such as Sticky Notes, the app's default ratio will be "stub".
This can help reduce the size of the app on disk and push less background update activity and less download traffic. As for browser cache memory, Microsoft says it now uses less disk space.
Issues encountered in Win 11
A major bug that affected Windows 11 related to AMD CPUs has been fixed. This is a situation where AMD CPUs could reduce or decrease performance by up to 15% in games.
However, another issue with Windows 11 related to memory leaks. Specifically, Windows 11 can take up additional RAM when you open multiple instances of File Explorer.
It will not release the RAM when you close File Explorer, and the system will take up additional resources. However, this issue existed in Windows 10 as well, and it has not yet been resolved in Win 11.
And like most other operating systems, encountering errors in the Win 11 version is unavoidable when compared to a lower version like Win 10, which has been optimized and had almost all major bugs fixed beforehand.
What are the reasons you should update to Windows 11?
If you have a computer that meets the Windows 11 hardware requirements set by the publisher, then you should upgrade to Windows 11. Microsoft designed Windows 11 for newer systems, so you will encounter fewer performance and error issues.
If you are someone who likes to stay up-to-date with security updates, then Windows 11 is definitely a better choice. As Microsoft announced, Windows 10 will only receive security updates until October 14, 2025. Furthermore, Windows 11 has stronger security foundations from the start.
Windows 11 brings some new features that are better than Windows 10, as we mentioned earlier. Additionally, Windows 11 focuses on multitasking, so the multitasking version of Windows 11 will be much better than Windows 10.
Upgrade to Windows 11 if you want better multitasking than ever before – Windows 11 focuses on multitasking, with new Snap Layouts, Snap Groups, and the ability to remember your layout for multiple screens. These may seem like small things, but they help provide a much better multitasking experience.
If you want to upgrade to Win 11, you can refer to buying a Windows 11 Pro key provided at the Buffcom.net website. Windows 11 Pro, Win 11 Home, and Education keys are available at low prices and will be activated on your computer for permanent use.
Reasons why you should not update to Win 11:
Windows 11 still has quite a few issues, even some issues that appeared on Win 10 still have not been resolved on Win 11 yet. And Win 11 is still in the improvement stage, so it may not be complete yet.
In particular, you should not upgrade to Windows 11 if your work process has many different applications – Windows always has some issues with compatibility with releases of major versions.
Moreover, if your work process is complex, then Windows 11 may break that process. Especially if you rely on a lot of third-party apps and related configurations.
Before deciding whether to update to Win 11, you need to check the compatibility of your computer. Because compared to Win 10, Win 11 requires higher hardware requirements. Forcing an update to Win 11 without meeting the hardware requirements can cause errors and not receive support from the publisher.
Furthermore, if you are already familiar or feel comfortable using Win 10, then you should not update to Win 11. Because Win 11 has many changes compared to Win 10, especially in terms of user interface.
Above are the answers to the issue of whether to update to Win 11 or not. You need to weigh the pros and cons before making a decision.