A Comparison of the Best Accounting Software Online vs. Offline (MISA, Fast, Bravo,…)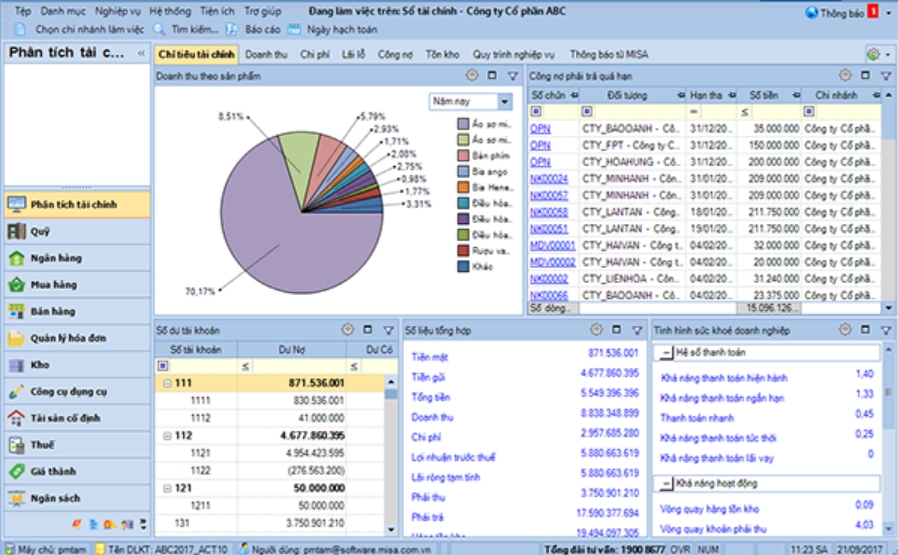 A Comparison of the Best Accounting Software: Online vs. Offline (MISA, Fast, Bravo,…): In today's accounting software market, businesses are shifting towards using online accounting software due to the digital transformation trend. The reasons for choosing online accounting software, along with the advantages and disadvantages of both online and offline accounting software, are of great interest to many individuals. This article aims to address these concerns.
Comparison between Online and Offline Accounting Software: Online accounting software is a system programmed as a web-based application, enabling businesses to carry out accounting tasks and financial reporting while storing information on cloud-based platforms. On the other hand, offline accounting software requires installation on a computer or device.
1.1 Advantages and Disadvantages of Online Accounting Software:
Advantages:
Flexibility in accessing and viewing financial reports: With data stored on the cloud, directors and accountants can access reports and work from devices connected to the internet, such as PCs, laptops, smartphones, or tablets.
Centralized data management for increased security: Unlike offline accounting software, which stores data on different servers, online accounting software manages all information on cloud-based platforms, ensuring centralized data storage and easy access with appropriate credentials. This minimizes the risk of data loss due to server failure, viruses, or other incidents.
Online tax filing: Some online accounting software facilitates direct connection with the Tax Department's online filing portal, allowing businesses to submit tax returns electronically without physically visiting the tax office.
Comprehensive accounting functionalities: Online accounting software can handle various accounting tasks, such as funds, banking, purchasing, sales, inventory, fixed assets, contracts, and financial analysis.
Disadvantages:
Dependency on internet connectivity: Online accounting software requires a stable internet connection to function. However, this is not a significant concern due to the widespread availability of the internet in most areas.
1.2 Advantages and Disadvantages of Offline Accounting Software:
Advantages:
No reliance on internet connectivity: Offline accounting software works independently of internet availability.
Full range of accounting functionalities: Offline accounting software also covers a wide range of accounting tasks, serving the needs of businesses effectively.
Disadvantages:
Dependence on computer specifications: Offline accounting software demands relatively powerful computers or devices to operate smoothly.
Limited access: Accounting tasks can only be performed on the computer where the software is installed, restricting remote access.
Comparison between Fast and MISA AMIS Accounting Software: Both Fast and MISA AMIS are reputable accounting software brands in Vietnam. They both offer online versions with cloud-based features. Some similarities and differences between the two are as follows:
Similarities:
Cloud-based platform: Both Fast and MISA AMIS operate on cloud-based platforms, facilitating easy and flexible data access.
No storage limitations: Users can store data without restrictions.
User-based pricing: Both software employs pricing models based on the number of users and subscription plans.
Differences:
Product packages: MISA AMIS offers five packages (Starter, Standard, Professional, Enterprise, and Enterprise Plus), while Fast provides packages tailored to specific industries such as trade, services, production, construction, etc.
Functional modules: MISA AMIS has a wide range of functional modules tailored to different business needs, while Fast offers modules like general accounting, cash, deposits, loans, sales, purchase, fixed assets, tools, inventory, construction cost, product cost, etc.
Detailed product information: Information about MISA AMIS can be found here, and information about Fast can be found here.
Comparison of Other Accounting Software: In addition to Fast and MISA AMIS, other accounting software options available in the market include 1A and Effect. These have their own sets of advantages and disadvantages, catering to different business requirements.
In conclusion, the choice of accounting software should be made based on the specific needs and conditions of each business. Each software has its strengths and limitations, and careful consideration is essential to find the most suitable solution.