5 tips to effectively fix PDF file opening issues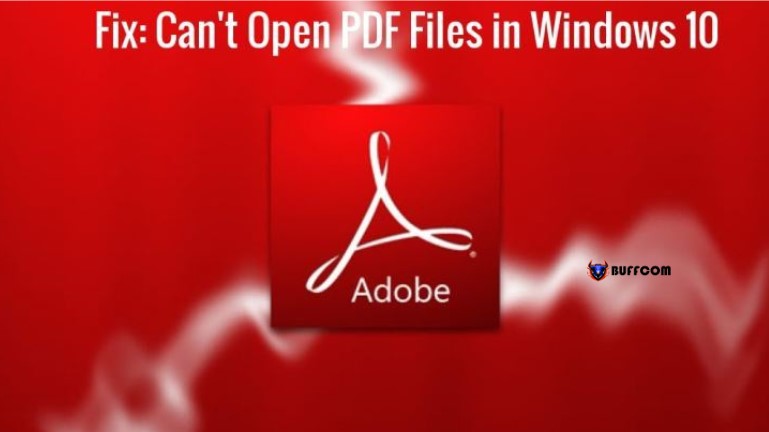 Fix PDF file opening issues. Are you having trouble opening PDF files? In this article, Buffcom.net will gather 5 tips to help you solve the problem.
There are many reasons that can cause fix PDF file opening issues. Sometimes, after upgrading the Windows operating system, you may encounter this problem, which seems unrelated.
First, let's explore with Buffcom.net what are the possible reasons that can prevent your computer from opening PDF files.
Outdated Reader or Acrobat version
PDF files created by non-Adobe software
Corrupted or damaged PDF files
Reader or Acrobat software is faulty
PDF files with unclear origin
There are many other errors, but these are the most basic ones, considered the root of all PDF issues on Windows 10 that people often encounter. Most users who encounter this problem are those who switch from Windows 7 or Windows 8 to Windows 10. When you try to open a PDF file, the system will not display any error messages or open the file for you. Your mouse cursor will spin for a few seconds and then stop, without any window popping up.
If you are experiencing a similar situation, you have come to the right place. Let's follow Buffcom.net and try the following 5 methods step by step.
5 ways to fix PDF file opening issues
1. Install the latest version of Adobe Acrobat
If you are using an outdated version of Adobe Acrobat, it may not be able to open all your PDF files. Adobe regularly updates its Acrobat and Reader software.
That's why you are always encouraged to update. Download the latest software from Adobe's official release page. There, select the version that is suitable for your current operating system and click the Download button.
Updating to the latest version can fix almost any conflicts in your system. This will solve the problem if the current version is faulty.
Furthermore, the latest update will also fix some other errors and improve security to keep the software running smoothly.
2. Disable Protected mode at startup
The crux of this issue lies in the settings. If you encounter an error related to Protected mode, follow the steps below to fix the error.
Step 1: Launch Reader. You can type "Adobe" into the search bar for easier access.
Step 2: Click the Edit button on the top menu bar.
Step 3: Click the Preferences option at the bottom of the Edit menu. A new window will appear with various categories.
Step 4: In this Preferences window, select Security (Enhanced).
Step 5: Under Sandbox protections, disable Protected mode at startup by unchecking the box next to it.
Many users have reported fixing the issue of not being able to open PDF files using these steps.
3. Request the fix PDF file again if it is corrupted
This is not a very common issue, but there is always a possibility that the software used to create a PDF file may be unstable, causing the PDF file to become corrupted when exported. If possible, suggest to the creator or sender of the PDF file to redo this process.
Sending PDF files over the network or copying them via USB can also cause errors. Therefore, do not be complacent and try again, especially if your computer can still open other PDF files normally.
In addition, some users who use Microsoft Outlook to send and receive emails report that they cannot open PDF attachments in emails. This can also be seen as a common issue.
4. Convert the fix PDF file to an older version
Sometimes, you may not be able to open a PDF file because it was created using software other than Adobe.
PDF files created by unofficial software may not adhere to the standards and technical specifications of a PDF file created by Adobe Acrobat official software.
Different versions of Adobe Acrobat software create different versions of PDF files. Usually, older versions will have less strict standards and may not adhere to standards like newer versions. If you encounter errors related to the software version when opening a PDF file, you should convert the PDF file to an older version to open it.
5. Fixing software installation settings
The Adobe Acrobat or Reader software, or the resources used by these programs, may be damaged, leading to incorrect task execution. The solution here is to fix the installation settings of these programs.
You can perform this action through Control Panel or an easier way is to start up the software and select Help > Repair program installation.
Most errors encountered when opening PDF files are caused by one of the above errors. Equally important is to ensure that your operating system can recognize PDF files.
For example, Microsoft Edge is not only the default browser for Windows 10, but also the default PDF reader software. It is better to adjust it to use Adobe Reader as the default PDF reader.
Why can't you open PDF files?
1. No PDF reader software installed
Most PDF files can be opened without PDF reader software. From Windows 7 and above, you can open PDF files directly. However, some PDF files cannot be opened directly, so you need to install PDF reader software. Currently, there are two PDF reader software programs that are widely used: Adobe Reader and Foxit Reader. When installing, make sure that you are installing the latest version.
2. The computer cannot recognize the PDF file
In Microsoft Windows, there is a feature that identifies PDF files, but for some reason, it is removed when the PDF file is sent by mail. If the file does not end in ".pdf", Microsoft Windows will not be able to open it.
The cause of this error may be due to the name of your PDF file or the storage folder being in Vietnamese with accents, causing Foxit Reader to not recognize it. That means your Foxit Reader software is using an outdated version that does not support Unicode or Vietnamese with accents. You only need to edit the PDF file name to a non-accented Vietnamese name as well as its storage folder.
3. PDF file is corrupted
Another possible reason is that the PDF file you downloaded is corrupted. Try downloading it again or try downloading it on another computer and check again.
Conclusion
Buffcom.net has guided you on 5 ways to fix the error of not being able to open PDF files. If you have any questions or comments, please leave a comment below. Wish you success.