How to Split Text into Multiple Columns in Word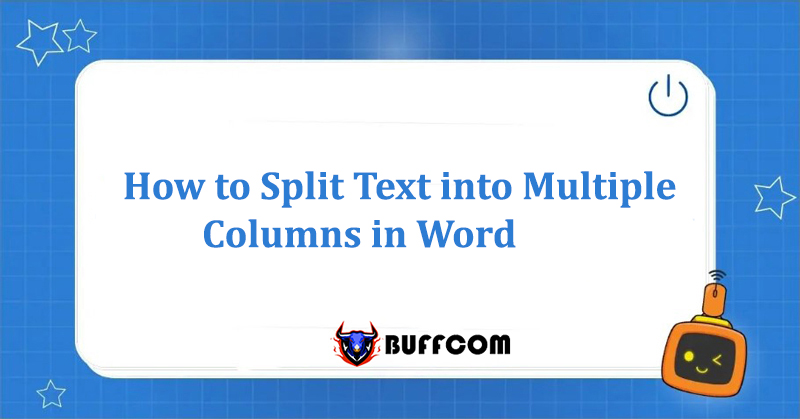 How to Split Text into Multiple Columns can help you easily and conveniently track content in certain cases. This process may be somewhat difficult for those who are new to Microsoft Word. This article from Buffcom.net will guide you through the procedure.
2 Steps to Split Text into Multiple Columns in Word
Step 1: Highlight the Text to be Split into Columns
Step 2: Select the Layout tab -> Columns -> Select the Column Format You Want to Display.
The column formats you can choose from are:
One: One column
Two: Two columns of equal width
Three: Three columns of equal width
Left: Two columns, the left column is narrower than the right column
Right: Two columns, the right column is narrower than the left column.
Here, Buffcom.net chooses the two-column format (Two), and the result is as follows:
Expand: To Change the Default Format, Select More Columns
The Columns dialog box appears:
You will not be limited in the options for presenting text in columns in the drop-down menu above.
Presets: Available formats you can choose from.
Number of columns: The number of columns you divide depends on your requirements (Click the arrow next to add/remove columns). Additionally, if you want to add lines between the columns, tick the Line between box.
Width and spacing: You fill in numbers in the box to adjust the width of the column and the width of the space between the columns.
Apply to: You have two options: Selected text or Whole document. Here, Buffcom.net selects Selected text.
Preview: So you can see the display of the text after being split into columns.
Finally, click OK to save the selected format.
Delete Column Formatting
If you need to delete column formatting, place the cursor anywhere in the columns and click on the Columns option in the Layout tab. Then select One from the drop-down list as shown below.
Conclusion about splitting text into multiple columns in Word
Sometimes when working in Microsoft Word, you need to split text into multiple columns for suitable documents such as articles, newsletters, flyers, advertisements, etc. The feature of splitting text into multiple columns is very useful because it helps to present text more beautifully, neatly, and efficiently. The text is displayed well, improves the reader's reading ability, and saves space for other long texts that would typically take up the entire page width.
If you have formatted the columns for text in Word, the text will flow from one column to the next on the same page. Also note that you can set column display to your entire document or to a selected part of your document. Buffcom.net wishes you success in performing this operation!
In addition, if you are looking for cheap office software related to this, please contact Buffcom.net on their website to find the right product for you.