How to turn off AutoComplete in Excel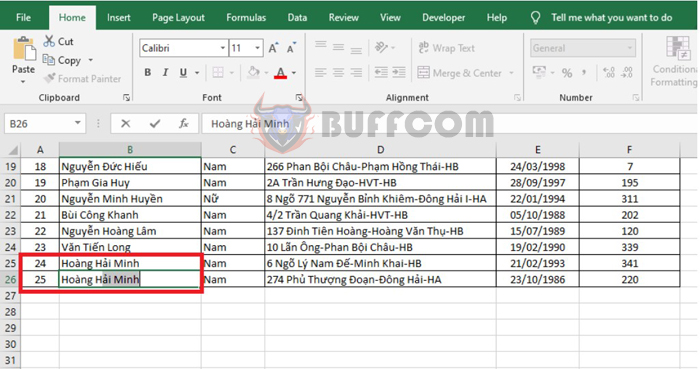 How to turn off AutoComplete in Excel: AutoComplete is a helpful feature in Excel that can save you time by suggesting similar entries when you type into a cell. However, in some cases, this feature can be inconvenient, especially when you need to enter different content into the same worksheet. In this article, we will show you how to turn off AutoComplete in Excel.
For example, we have a data table as shown below. As the name "Hoang Hai Minh" is already in the table, when we type "Hoang H," Excel will automatically suggest the rest of the name as "Hoang Hai Minh," as shown in the image. This can be inconvenient if you want to enter a different name. Follow the steps below to turn off this feature.
Step 1
First, click on the "File" tab in the Excel ribbon.
Step 2
Next, click on "More" at the bottom left corner of the screen, then select "Options."
Step 3
In the "Excel Options" window, select the "Advanced" tab on the left-hand side. Under the "Editing options" section, uncheck the box next to "Enable AutoComplete for cell values." Finally, click "OK" to apply the changes.
By following these simple steps, you can successfully turn off the AutoComplete feature in Excel. From now on, when you type in similar content, Excel will not suggest the rest of the data automatically.
In conclusion, turning off AutoComplete in Excel can be a good solution for those who find this feature inconvenient. By following the simple steps outlined in this article, you can easily disable this feature in Excel and improve your data entry efficiency. We hope that this article has been helpful for you and wish you success in your Excel work.