Surface Pro 8 vs. Previous Models: A Comprehensive Comparison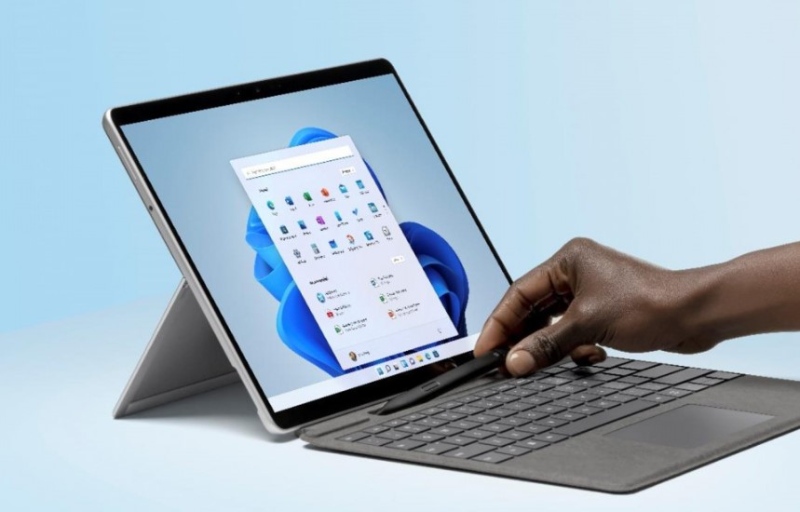 Microsoft's unveiling of the Surface Pro 8 during its recent event marks a significant upgrade to its flagship Intel-powered 2-in-1 lineup. The new device introduces a range of enhancements such as a 120Hz display, Thunderbolt 4 support, and updated processors. However, these advancements come with a higher price tag, nearly doubling that of its predecessor, the Surface Pro 7, starting at $1,099.99. This cost amplifies when considering the essential add-ons like the stylus and detachable keyboard.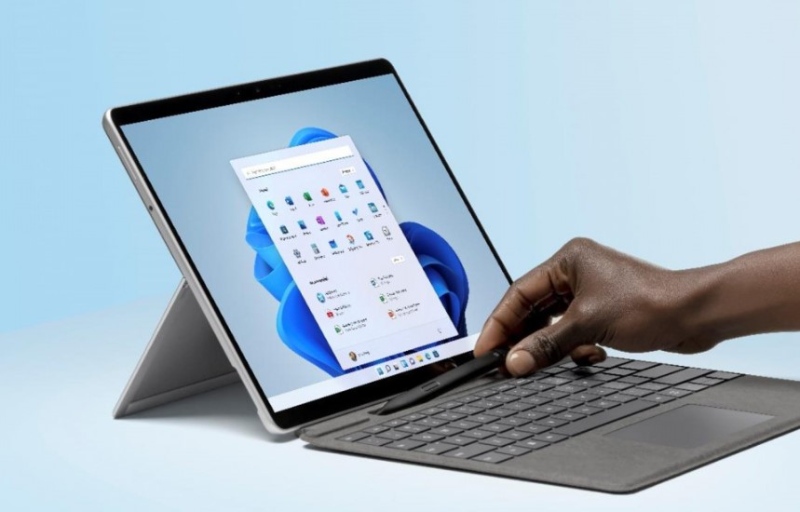 For prospective buyers weighing the decision between upgrading or sticking with the last-gen model, an exploration of the differences between the Surface Pro 8 and its predecessor can provide valuable insights. Here's a detailed comparison based on specifications and early impressions of the Surface Pro 8.
What's New on the Surface Pro 8?
Two Thunderbolt 4 USB-C ports
Increased refresh rate from 60Hz to 120Hz
11th-gen Intel quad-core Core CPUs, starting with i5 instead of i3
Enhanced 10MP rear-facing camera with 1080p and 4K video capabilities
Larger 13-inch display with a higher 2880 x 1920 resolution (up from 12.3-inch)
Doubled RAM on the base model (8GB)
Up to 16 hours of battery life, as per Microsoft's claims
New ambient light-adjusting sensor for display temperature
LTE support for enterprise users
Preloaded with Windows 11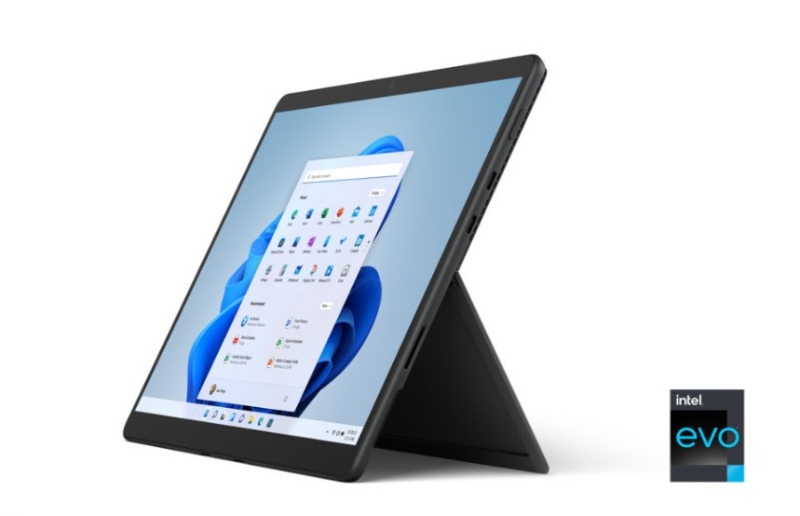 The Surface Pro 8 signifies more than a mere incremental update. With a redesigned appearance featuring slimmer bezels and a 13-inch display, it represents a significant visual overhaul compared to its predecessor. Additionally, the Pro 8 offers a more ergonomic feel, incorporating softer corners, and introduces a new color option: graphite.
From a technical standpoint, the Pro 8's display undergoes substantial improvement with the option to elevate the refresh rate to 120Hz, potentially enhancing the user experience, particularly with stylus usage and smoother scrolling. Gaming enthusiasts may find this upgrade appealing, coupled with preloaded gaming support and a trial of Xbox Game Pass Ultimate. Furthermore, the Pro 8 supports Dolby Vision and integrates an ambient color sensor, automatically adjusting display settings based on ambient lighting conditions.
Performance-wise, the Pro 8 boasts superior capabilities with 11th-gen Intel Core i5 or Core i7 processors, up to 32GB of RAM, and a range of SSD configurations. Notably, Microsoft claims a 40 percent improvement in sustained CPU performance and a 74 percent boost in graphics compared to the Pro 7.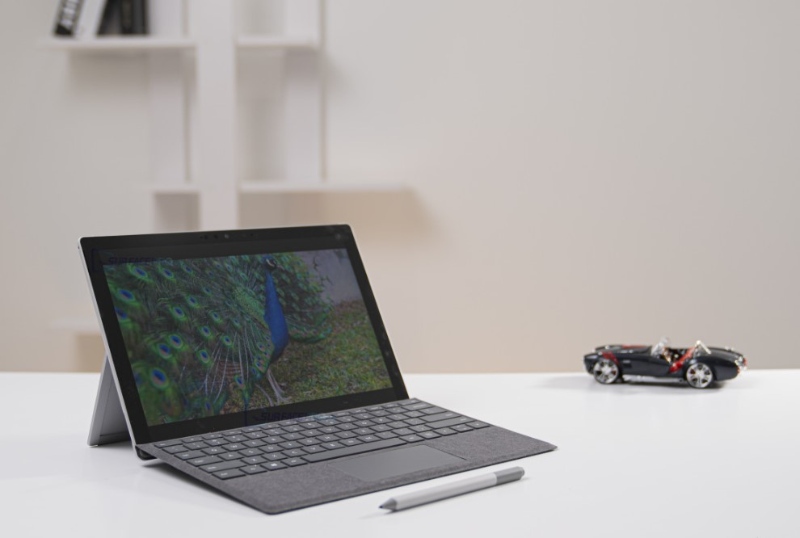 The battery life of the Pro 8 also shows promise, allegedly offering up to 16 hours on a single charge. Connectivity sees a shift with the introduction of Thunderbolt 4 ports, enhancing display support and providing faster data transfer options. Additionally, the Pro 8's cameras have seen improvements, with the rear camera now at 10MP and capable of capturing 4K video, along with enhanced face-tracking technology for video calls.
Comparative Similarities:
Both models share a similar flat-edged appearance.
Equipped with a 5MP front-facing camera supporting Windows Hello facial recognition and 1080p video capture.
Wi-Fi 6 and Bluetooth support.
Compatibility with both generations of the Surface Slim Pen.
Built-in kickstand and support for optional keyboard and stylus.
Feature a 3.5mm headphone jack.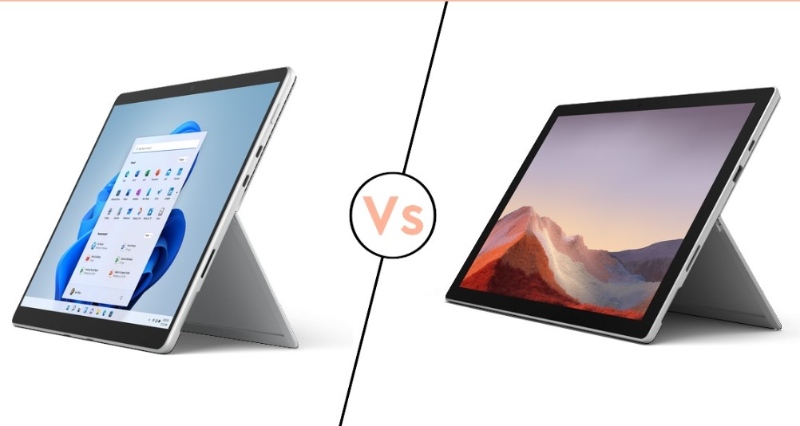 Beyond the enlarged display and introduction of Thunderbolt 4 ports, the Surface Pro 8 maintains a close physical resemblance to its predecessor. Both models share commonalities in terms of design, front-facing camera specifications, wireless connectivity options, and select ports.
Both devices also support Windows 11, with the Pro 7 slated for an upgrade upon the new OS release.
Reasons to Consider the Pro 8:
The Surface Pro 8 offers a host of enhancements over the Pro 7, including a larger display, improved performance metrics, potentially longer battery life, and upgraded camera specifications. Its Thunderbolt support opens avenues for multiple monitor connections, faster data transfers, and potential external GPU use. Despite the higher starting price, the Pro 8 justifies this with doubled RAM and an i5 CPU as standard compared to the Pro 7's i3 configuration.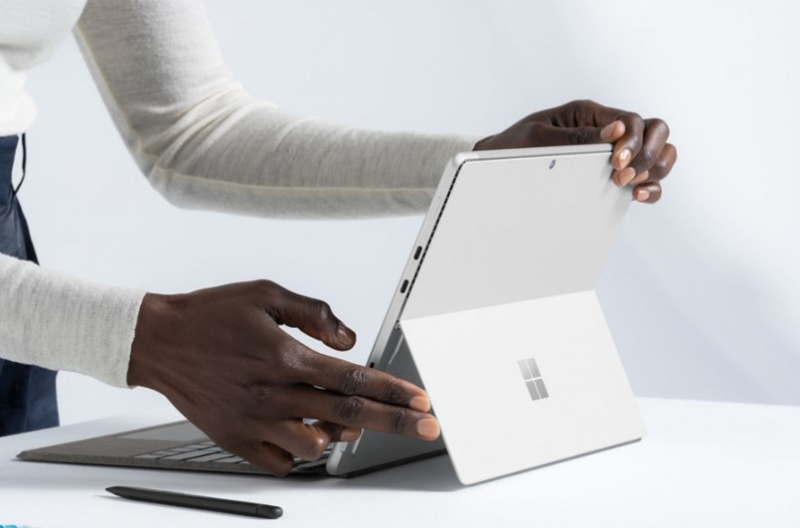 For enterprise users, the Pro 8's LTE support, though not yet available, stands as an appealing feature alongside other enhancements.
However, it's essential to note that these comparisons are based on initial specifications and early impressions. A comprehensive review after extended use will provide a more accurate assessment of the Pro 8's performance.
If considering the Pro 8, waiting for a detailed review might offer a more informed perspective on its actual capabilities and value proposition.