Tip for selecting and editing text with the same format in Word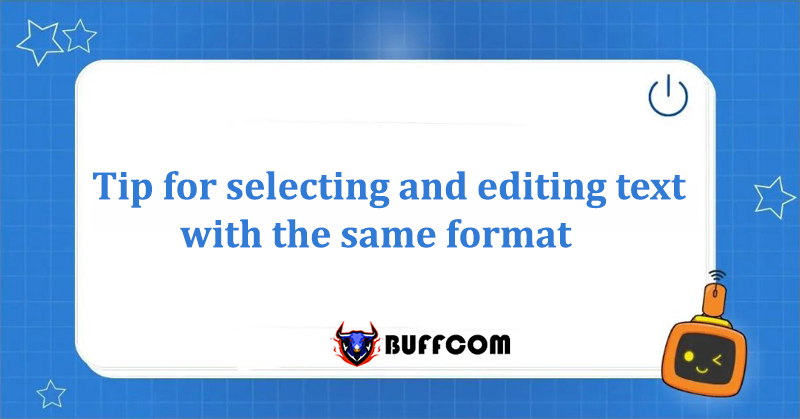 During the process of editing text in Word, sometimes you need to quickly change the format of headings or text with the same format. In this article, Buffcom.net will guide you on how to quickly select and edit text with the same level or format in just a snap.
Tip for Quickly Selecting and Editing Text with the Same Format in Word
Normally, to edit different types of text into the same format, you would usually copy the required format using the Format Painter function to apply the new format. However, this method takes time and needs to be repeated if you need to edit multiple lines or paragraphs.
Assuming you have a table of contents file for the Mastering Word Specialist 2016 exam, consisting of 5 pages:
You need to quickly select all the topic names and change the color to blue. If you edit each topic one by one, it will take time, but if you follow the instructions from Buffcom.net, you only need to spend less than 5 seconds to do this.
Step 1: Place the Mouse on the Position with the Format You Want to Edit at the Same Time
In this example, Buffcom.net will click the mouse on the Topic A: Document Creation.
Step 2: On the Home tab, in the Editing group, click Select -> Select Text with Similar Formatting.
This function will help Word select all the text with the same format. You will see that all the text with the same format as the text you clicked on will be highlighted.
Step 3: Edit the Selected Text as Desired.
So with just one simple step, you have edited all the highlighted text without having to do it multiple times.
Conclusion
With just 3 simple steps, without having to spend a lot of time doing it repeatedly, you can quickly select all text with the same format to edit text in Word. This cool trick is sure to surprise your boss and colleagues with your work productivity.
Follow Buffcom.net to update and improve your office computer skills every day!
If you have any issues with the software you are using that make you unsatisfied, please contact Buffcom.net for advice on choosing the appropriate licensed software for yourself.